alphaspirit - stock.adobe.com
From Aberdeen to Brighton: Investing in the UK's digital future
More investment in the UK's broadband infrastructure is critical to ensure the UK's future success in technology in a post-Brexit world
Investment, deals and new tech dominate the headlines, but as we transition into the "fourth industrial revolution" there is one thing we have to get right – digital infrastructure.
With Brexit on the horizon, it is an unfortunate truth that there remains little certainty over what our future relationship with Brussels will look like. Beyond the political rhetoric, Britain must be known as an attractive destination for both entrepreneurs and investors to call home – digital infrastructure is a vital element of the modern economy and could come to define our global standing as a leading exporter of services.
However, we have seen startling signs that Britain is not keeping up. A study released in July 2018 revealed that the UK has fallen in the international broadband speed rankings, coming in behind Germany, France and more than two-thirds of the EU.
Now, more than ever, the UK cannot be complacent and left behind when it comes to the underpinnings of a tech ecosystem.
In recent years, Britain has risen in the ranks and can now claim a seat at the table alongside the tech titans of the US and China. Domestically, the wider UK economy has benefited greatly from the breadth of the tech sector. Initiatives such as HereEast in the Olympic Park, the Cambridge Tech Hub and the Spaceport planned for the Scottish Highlands signpost the UK as a digital nation.
Such tech prowess requires world-leading digital infrastructure and internet connectivity that sponsors diverse innovation in the areas where the UK has shown exceptional promise – fintech, deeptech, cyber, retail tech, biotech, creative tech and the likes of.
World-class digital infrastructure essential
However, that is just a small piece of the puzzle. Traditional industries are transforming, and the lines are increasingly blurred as businesses enter the digital economy. This is further increasing the vital importance of ultrafast broadband speeds and homogenous connectivity across the UK.
The prime minister says we are to leave the EU's digital single market – our attractiveness to foreign entrepreneurs, and indeed to our own, will be tested. States within the digital single market will increasingly benefit from borderless integration – leaving Britain with the challenge of securing the prosperity of its own tech sector.
We must remain competitive and continue to attract the next generation of ambitious tech startups and scale-ups, and a world-class digital infrastructure needs to be at the heart of growth.
There have been some important steps already taken. While at the Department for Digital, Culture, Media and Sport (DCMS), Matt Hancock worked to deliver on promises to provide homes across the UK with superfast broadband. Yet, more work remains to be done.
London's "not-spots" should be a thing of the past, rather than forcing tech businesses into commercially dense areas where the cost of real estate is eye-watering.
Homogenous broadband speed that is fitting with technological demands could play a major part in diversifying the concentration of tech firms in specific post codes, allowing startups and scale-ups to thrive across the capital.
Public and private sectors must unite
There is a role for both the public and private sectors to play in guaranteeing that the UK has the digital foundations to thrive. Hancock, before becoming health secretary, announced a great initiative. The Universal Service Obligation (USO) will come to guarantee that everyone has a legal right to request a speed of 10Mbps, and makes providers pay for it – up to £3,400 per request. Strong action like this must form part of the answer and the strategy going forwards, now it is about accelerating progress.
There is a need for greater cooperation between private sector companies and the government, with the latter being willing to step in and back investment that will benefit the UK's digital economy. In such a politically turbulent time, infrastructure remains a uniting issue – so long as the investment is widely distributed, there is no reason that this can be a future-facing issue that swerves party politics.
The private sector has a key role to encourage more investment in startups and scale-ups which focus on digital infrastructure. Companies such as Hyperoptic and Optimity are demonstrating that there are growth opportunities for businesses scaling in digital infrastructure and an appetite to fund them from the investor community.

5G readiness and roll-out is going to play a major part in building truly smart cities, including fully mobile businesses and connected driverless vehicles – these roll-outs will certainly be a defining factor for the global tech hubs that will dominate the years to come.
Now is the time to decide what the post-Brexit economy will come to represent. The UK can be a champion of the next age of industry and home to the tech businesses that will shape society – the foundation is evidently digital infrastructure. With timely investment from the private sector, along with an understanding and emphasis at the highest echelon of government, we can get connectivity right and remain at the forefront of global innovation.

Download this free guide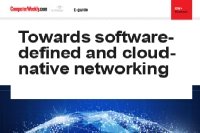 Towards software-defined and cloud-native networking
As networking equipment rapidly evolves to being software-defined and cloud-native, there is pronounced interest in products and services to accelerate service delivery, improve end-user experiences, and reduce infrastructure and operational costs in service delivery applications.
Read more on Telecoms networks and broadband communications