Patryk Kosmider - stock.adobe.co
Fixing government digital transformation – lessons from the early days of GDS
As a new organisation is formed to lead UK digital government, three former government digital leaders share the lessons they learned from the early days of the Government Digital Service
The UK government's new strategic centre for digital, data and technology, The Central Digital and Data Office (CDDO), has a big challenge on its hands. How does it break the repeating cycle of digital government initiatives and deliver the long-promised transformation of our public services?
An objective, warts-and-all public discovery process would be a good start. It would provide the opportunity to learn from what's happened in the past, baselining the good, the bad and the outright ugly of the past 20-plus years.
Back in its early days, we helped set up various Government Digital Service (GDS) programmes. We thought it'd be useful to revisit what we aimed to achieve in a couple of areas, such as central controls and the improved use of agile, to help inform that discovery.
Content Continues Below

Download this free guide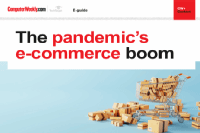 The pandemic's e-commerce boom
The pandemic appears to have solidified e-commerce's ascendancy against the highstreet. Coronavirus has accelerated technology adoption in many sectors, and people have been forced to stay at home, increasing their online shopping habits in a bid to avoid visiting shops.