Halfpoint - stock.adobe.com
UBS uses predictive analytics to manage its travel spend
Swiss bank is getting a better insight into its business travel costs through an automated software platform
Swiss bank UBS is using software to help it improve how it forecasts the costs associated with business travel.
Through an automated system from PredictX – previously Pi Travel – the organisation will use artificial intelligence to analyse spending and activity data from previous trips to help it make better budgetary decisions. The system is also expected to improve UBS's position when negotiating with travel service suppliers.
The PredictX platform will analyse five years of travel data, including travel costs and credit card spending, from across the company to predict future travel costs. Previously, the bank had to bring data together manually from various systems, some of which were external, in order to apply business intelligence to it. As a result, reports on spending were eight weeks old when management received them.
UBS is a global bank and its staff travel regularly, so it can make huge savings by managing costs effectively. "For us, accurate and transparent data analytics is mission critical, especially in a high-spend category such as travel," said Mark Cuschieri, global travel lead at UBS. "Previously, it was impossible for our category managers to make proactive, vital business decisions on future spending. Typically, we were receiving static reports on trip spend eight weeks post-event.
"Slow data consolidation and single-layer reporting just couldn't provide the insight needed – and certainly not in a way that would support our new global travel strategy and business requirements."
Cuscheri added that the ability to predict costs and behaviour helps the bank negotiate better deals with its travel service providers. "Additional benefits of the predictive analytics platform include being able to have better informed negotiations with suppliers," he said. "Complete and unequivocal historic spend data allows for accurate predictions of likely future spend, allowing mutually beneficial rates to be agreed."
Content Continues Below

Download this free guide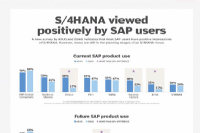 Infographic: S/4HANA viewed positively by SAP Users
SAP has recognised that customers will face challenges and costs when they upgrade to S/4 Hana. It has set out a roadmap to simplify integration, in a bid to lower the transition cost of moving from ECC to the S/4 platform. This infographic shows why most SAP users have positive impressions of SAP S/4Hana.