fotogestoeber - Fotolia
Economic and political uncertainty drives organisations to rethink IT strategies
CIO job satisfaction reaches a three-year high as organisations hire more IT staff and invest in innovative digital technology
Organisations are responding to growing political and economic uncertainty over the past 12 months by spending more on innovative, quickly adaptable technologies, a major study reveals.
IT leaders are rethinking their IT strategies following the Brexit vote, the election of Donald Trump and economic volatility in other economies, according to a survey of nearly 5,000 technology leaders in 90 countries, the research by Harvey Nash and KPMG reveals.
Almost two-thirds of IT leaders say the wider political, business and economic environment has become more unpredictable, and have changed their priorities over the past 12 months.
The top operational priority for IT leaders is to deliver consistent and stable IT performance to the business.
And more than half are developing "nimble" IT platforms that will enable them to respond to new and unpredictable demands more quickly.
"CIOs are able to use this as an opportunity," said Lisa Heneghan, global head of technology at KPMG Management Consulting, in an interview with Computer Weekly. "We are seeing investment being delivered towards some of the underlying transformational projects that they have been keen to deliver for a while."
Overall IT budgets are growing, with nearly half of IT departments predicting a rise in spending next year, the research shows.
At the same time, some 90% of CIOs are either maintaining or ramping up investments in innovative IT projects.
The most popular ways to encourage innovation are to set aside dedicated time for innovation and to form partnerships with innovative organisations, such as academic institutions. Appointing a chief innovation officer is a tactic used by just 10% of organisations.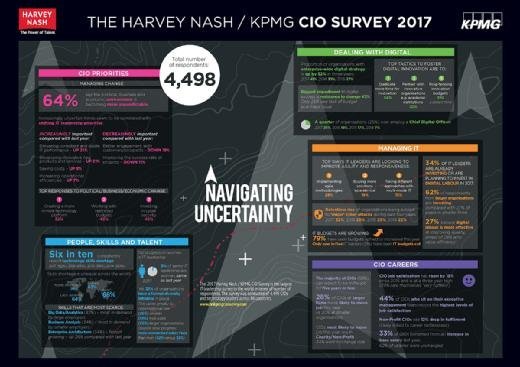 One organisation, for example, has decided to accelerate a five-year programme to move to cloud IT services. "Now they are saying let's do this quick and take some of the harder decisions now," said Heneghan.
The proportion of CIOs who are responsible for leading innovation in their organisations is still small, but growing. However, some 60% of CIOs believe there is an opportunity for the IT department to take the lead.
"They have the opportunity to really drive leadership around innovation," said Heneghan. "They need to be seen to be an innovation leader, and they need to be able to interpret the business challenges and really understand them."
IT departments recruit more staff
More than 40% of IT leaders plan to increase the headcount in their IT departments in 2017, with the majority opting to hire permanent staff rather than temporary contractors.
IT professionals with big data and data analytics skills are the most in demand, but demand for enterprise architects has risen by 26% over the past year, as companies embark on digital projects.
About 60% of organisations report skill shortages – a figure that may be the new norm in IT. Over the past 12 years, there have been only three occasions when less than half of IT leaders were struggling to find the right staff.
Digital strategy
The number of organisations with an enterprise-wide digital strategy in place has risen to 40%, a rise of more than 52% over the past two years.
Many IT leaders have presented digital strategies to their board, and a growing number have developed digital plans for individual business units.
However, IT departments are wary of entering projects with new, untried suppliers and implementation partners. This has led to CIOs focusing on fewer contracts with suppliers and consultants that they already trust and have worked with.
"Organisations are being careful about very long-term investments at this stage," said Heneghan. "You need the ability to change and adapt, so you are going to think seriously about changing one long-term relationship with another."
Chief digital officers
The number of organisations that have deployed chief digital officers (CDOs) has tripled over the last three years, following a lull in 2014 and 2015, as organisations place renewed emphasis on digital technology.
More than half of large companies now have a CDO in place, though the take-up in small companies is much lower.
There is an increased blurring of roles between chief innovation officers, chief digital officers and chief information officers, with some CIOs taking up roles as CDOs.
"Some organisations say they expect to see business and technology to be indistinguishable," said Heneghan.
CIO job satisfaction up
As investment in digital technology has increased, the proportion of CIOs who described themselves as "very fulfilled" in their role is at its highest level for three years.
For the first time in a decade, the proportion of CIOs who believe their role is becoming more strategic has passed 70%.
The vast majority of IT leaders now have frequent access to the board. Two-thirds have attended a board meeting within the last quarter, while 85% have joined a board meeting in the last 12 months.
"When CIOs are called into a board meeting now, its not just to be beaten up about the quality of IT service," says Heneghan. "CIOs are key to helping them decide how technology transforms business."
CIOs plan to stay
Most CIOs expect to be in their current jobs for five years or less, but the proportion of IT leaders who want to stay in their roles longer than five years is growing, possibility reflecting increasing job satisfaction.
One-third of CIOs received an increase in base salary last year, while the majority saw their salaries remain static. Those working in the leisure, retail and energy sectors received the highest salary rises.
The increase in the number of women in IT leadership has stalled. Women make up 8% of IT leaders in smaller organisations, and 10% in large organisations.
The pay gap between male and female IT leaders is narrowing, however, with women IT leaders receiving bigger pay rises, on average, than their male counterparts.
"There remains a big challenge in attracting women into technology," said Heneghan. "We are seeing more initiatives in organisations to attract and retain women."
Spending on automation grows
CIOs in organisations that are pursuing digital technology programmes are almost twice as likely to be leading innovation, and are investing four times more quickly than other firms in "intelligent" applications and artificial intelligence.
In larger organisations, 61% of CIOs are either investing already or are planning to invest in robotics, machine learning and intelligent applications – a concept KPMG describes as "digital labour".
"In some organisations, we are starting to see the importance of digital labour starting to spread, not just in IT but in finance, support and HR, " said Heneghan.
Cyber security risks high
The survey reveals that cyber security has become a major source of concern for CIOs, as the number of attacks reaches an all-time high.
One-third of IT leaders report that their organisation has been subject to a major cyber attack in the past 24 months – a 45% increase from 2013.
The biggest rise in threats comes from insider attacks, which have increased from 40% to 47% over the past year.
However, only one in five IT leaders say they are "very well" positioned to identify and deal with a current or future cyber attack – down 28% over the past four years.
CIOs can become digital leaders
The research shows that CIOs have an unprecedented opportunity to help their organisations become "digital leaders" in their field.
"They need to look at how they use digital technology, how they drive innovation, and how they can make sure their IT infrastructure operates safely, securely and effectively," said Heneghan.
The biggest challenge for CIOs is the need to overcome resistance to change in their organisations – a significantly greater problem than securing financial backing.
What IT leaders say
Future of the CIO
"CIO roles will still exist, but there will be much fewer of them and they will be working in less fast-moving businesses or where a CIO is needed to decommission legacy technology. Meanwhile, there will be a huge surge of opportunity for ex-CIOs who can use their transferable skillset to be true business leaders."
Triona O'Keeffe, CIO, Direct Line Group, UK
Cyber security
"Cyber security and the risk it poses to enterprise are increasingly worrysome, especially as technology becomes more global and is the 'secret sauce' differentiating many companies."
Fidelma Russo, CTO, Iron Mountain, US
Digital strategy
"At the same time as we are experiencing double-digit growth, we are also transforming the IT model to have it completely focused on our users' and clients' digital experiences. The challenge requires a new mindset, from the IT team to suppliers and business areas."
Christian H A Reis, CIO, VLI Multimodal, Brazil
Recruiting IT staff
"Technical skills don't matter in many roles as they can be taught. The right people often aren't technology people, but instead those most curious and passionate about positive change.'
Robyn Randell, vice-president IT, Burberry Asia, Hong Kong
Innovation
"Companies that create an 'atmosphere of innovation' in their workforce, with a laser focus on their business strategy, will become the disruptors."
Yuri Aguiar, director of innovation and transformation, Ogilvy & Mather, Worldwide US