IT outsourcing going strong in the Nordics
IT outsourcing is popular among companies in the Nordic region, but the market is changing
Companies across the Nordic region continue to invest in IT outsourcing and the level of satisfaction with their IT providers is high – but there are changes in the market.

Download this free guide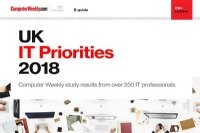 2018 UK IT Priorities survey results
IT organisations in the UK and across Europe are starting to accelerate the move to the cloud. Read more about the key areas in which senior IT managers are planning to invest in over the next 12 months.
According to the latest Nordic IT outsourcing study by Whitelane Research, which covered 322 Nordic companies and 1,000 outsourcing contracts in Denmark, Finland, Norway and Sweden, more than three-quarters of the respondents said they would continue to outsource at the same rate or more in the coming year, and 44% said they were planning to increase outsourcing.
Finland saw the biggest rise in companies planning to outsource more, up from 27% in 2016 to 45% this year. By contrast, Norway and Sweden saw a drop from 54% and 45% in 2016 to 45% and 35% in 2017, respectively.
Meanwhile, Sweden saw the highest rate of companies planning to outsource less (12%). "It is too early to say if this is a larger trend," said Mikael Dahlstedt, sourcing expert at PA Consulting Group, which collaborated in the study. "If we get the same result next year, then we can see a real change, but based on a single year, it is difficult to conclude that the market has matured."
The main outsourcing drivers for Nordic companies were to focus on their core business (cited by 60% of respondents), cost reduction (59%) and access to resources (53%).
Service providers had different views on their clients' motivation. They cited business transformation (71%), cost reduction (65%) and innovation (47%).
In general, Nordic respondents were content with their IT providers, with 90% saying they were at least "somewhat satisfied" with contracts.
Read more about outsourcing deals in the Nordics
Indian IT giant Tata Consultancy Services (TCS) retained its number one spot with an overall satisfaction score of 82%, followed by Accenture and newcomer to the list Salesforce (both 78%), Cognizant and Tech Mahindra (both 76%), then L&T Infotech and Telenor (both 75%).
Although Indian providers remain prominent on the list, their success in the Nordic market showed signs of wavering, with several falling in the rankings. Wipro took the hardest hit, dropping from a 73% satisfaction rate in 2016 to third bottom at 61%.
This change is particularly visible in Sweden, where only TCS made it into the country's top five, compared with three Indian players (TCS, HCL and Wipro) in previous years. However, Dahlstedt does not see this as a broader trend, but as a reflection on individual cases.
For example, HCL (whose satisfaction fell from 80% to 68% in Sweden) was undergoing a major transition and finished integrating 2,560 new employees in November, a year after it bought Volvo Group's IT arm in late 2015.
Pankaj Tagra, HCL's head of Nordic business, told Computer Sweden that the company was not satisfied with its ranking and referenced the challenges of integrating a large acquisition. Tagra said the company had started work to improve its results.
Read more on IT outsourcing