Stuart Monk - Fotolia
Government digital transformation strategy finally set to be published this week
The much-delayed plan – now expected to be known as the government transformation strategy – is due to be announced by Cabinet Office minister Ben Gummer
The much-delayed government digital strategy will finally be published this week, Computer Weekly has learned.
Cabinet Office minister Ben Gummer is expected to announce the plan during his keynote speech to the annual conference of the Reform think-tank on Thursday 9 February.

Download this free guide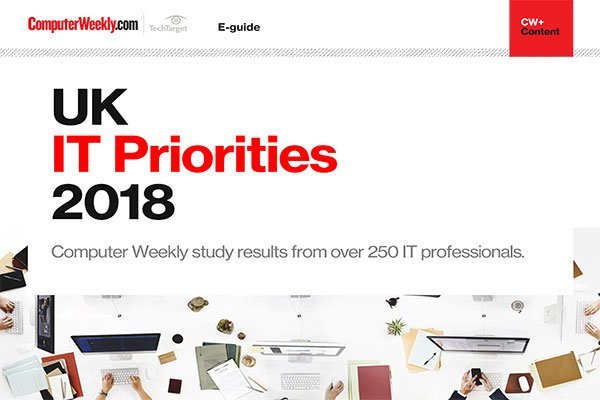 UK IT Priorities 2018 survey results
Download this e-guide to discover the results of our 2018 UK IT Priorities survey, where IT leaders shared with us what they are going to be investing in over the coming 12 months.
By submitting your personal information, you agree that TechTarget and its partners may contact you regarding relevant content, products and special offers.
You also agree that your personal information may be transferred and processed in the United States, and that you have read and agree to the Terms of Use and the Privacy Policy.
The strategy was first due to be released in December 2015, to outline how the Government Digital Service (GDS) was to spend the £450m budget awarded in the November 2015 Spending Review. The plan was further put back in 2016 because of the UK's June referendum on membership of the European Union.
The launch was then targeted for September last year, after the appointment of new GDS director-general Kevin Cunnington. That was subsequently put back and Cunnington promised that the strategy would be released before Christmas. Sources later suggested that Number 10 did not want to be perceived as "rushing out" such a critical announcement during the holiday season, further delaying publication until this week.
The content of the strategy has also seen significant changes during its protracted gestation – so much so, that it is believed it will no longer be called a "digital strategy", and will instead be billed as the "government transformation strategy".
An early draft of the current plan, seen by Computer Weekly last November, said it aimed to "take digital transformation further than ever before" by prioritising an overhaul of the highly siloed back-office functions across the civil service.
In December, Computer Weekly published details from another document, Government Transformation Strategy detail: Background, which outlined a fundamental rethink of the way Whitehall operates, enabled by the advent of digital technology.
This paper suggested a much broader scale of transformation than was previously implied, stating that the strategy is "not just about providing the digital services citizens rightly expect, but also about ensuring that government continues to modernise itself on the inside".
Read more about the government digital strategy
"The time is right for us to think more laterally across departments – and for government to have an integrated transformation strategy, enabled by digital practices and technologies," the document said.
"Across government, we must create flexible digital infrastructure, and government services that are responsive to changing environments and enable us to iterate and improve existing services in an agile way."
Sources suggest the new strategy required extensive approvals around Whitehall because of the implications it has for the way departments work together. More than 1,000 civil servants were sent copies of the plan, said one insider.
According to the documents seen by Computer Weekly, the strategy requires departments to transform the "back-end" IT systems that support digital public services, breaking down entrenched silos and aiming for much greater collaboration and integration between big Whitehall software applications. Tension between those silos has caused significant conflict in the past over the role of GDS and its relations with departments.
The strategy is also expected to provide further details on plans for existing programmes, such as government as a platform, the Gov.UK Verify online identity system, digital skills development and the government's data infrastructure.
Science and Technology Committee chairman Stephen Metcalfe last month wrote to digital economy minister Matt Hancock to complain about the "continued absence of the government's long-promised digital strategy".
Read more on IT for government and public sector