Interview: Kevin Cunnington, director general, Government Digital Service
The government's new digital chief talks about his plans for the future and the challenges of transforming public services
On the wall behind Kevin Cunnington, a poster proclaims: "The challenge is service transformation. Not website redesign."
The Government Digital Service (GDS), of which Cunnington became director general in a controversial appointment over the summer of 2016, has long been fond of its motivational posters. On either side of its new chief are two others – "Show the thing" and "Be bold", they state.
In many respects, those three statements represent the three ages of GDS. Under its inaugural leader, Mike Bracken, it was all about "showing the thing" – a plan to redevelop 20 high-profile government transactions as new digital services, thereby demonstrating the potential of "digital" to improve public services.
Bracken left in September 2015, with some Whitehall departments seething at what they saw as an attempt by the centre to dictate to them, embodied in Bracken being unafraid, sometimes aggressively, to tackle entrenched interests – the "mandarin-led lands" as he called them.
His supporters will say such an approach was absolutely necessary, and fully endorsed by his boss, then Cabinet Office minister Francis Maude, himself happy to bang a few heads together to bring about change.
Bracken's successor, Stephen Foreshew-Cain, brought a more conciliatory approach – "We've got your back," he would say.
One of his closest lieutenants, Janet Hughes, coined the phrase "Be bold" in a blog post exhorting the civil service to be braver and take more risks – with a clear subtext that "bold" implied "digital". Hughes followed Foreshew-Cain out of the door soon after Cunnington took over.
Now, if there's one, lingering criticism of GDS that Cunnington needs to address, it's the perception that it's nothing more than a bunch of website developers with little understanding of the complexity of big government IT.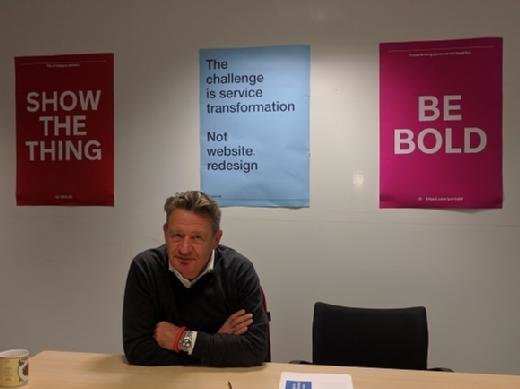 He came into the role having led the business transformation function for the Department for Work and Pensions (DWP). His GDS tenure, therefore, will stand or fall on his ability to genuinely transform how public services are delivered.
"Our mission statement is transforming the relationship between citizen and state, and that sounds good," he told journalists in his first meeting with the press since taking over.
Cunnington's aim is to focus GDS around what it can achieve by the end of this Parliament in 2020.
"What I'm trying to create is a narrative where the Cabinet Office minister [Ben Gummer] can say to people that Britain will be very different in 2020 because we'll be a much more digital government," he said at the meeting.
"What could the prime minister say in 2020 about how UK life or the interaction between a UK citizen and the state would have transformed that relationship?"
"Our mission statement is transforming the relationship between citizen and state"

Kevin Cunnington, GDS
The new chief's initial task is producing a new plan for GDS – dubbed the government digital transformation strategy. The question everyone around the Whitehall digital community is asking is, how different will it be to what has gone before? In terms of what GDS is expected to deliver, the answer, according to Cunnington, is not very.
He says the core focus for GDS remains around the three major programmes that attracted a £450m budget award in the spending round in November 2015.
These are: Common Technology Services (CTS), a programme to roll out new technology for civil servants and support the exit of the many big outsourcing deals due to expire by 2020; government as a platform, developing common services for use across Whitehall, in particular for payments and status notifications; and Gov.uk Verify, the identity assurance service that is proving to be complex and controversial.
Read more on CW500 and IT leadership skills