Brian Jackson - Fotolia
Early plans for Universal Credit show DWP expected to complete project in two years
An early plan drawn up by the Department for Work and Pensions (DWP) for its Universal Credit scheme reveals unrealistic ambitions for the troubled project
Early plans for the Universal Credit welfare reform programme show the government originally expected to complete the whole project in only two years.
The initiative – launched in 2011 – has since been heavily re-scoped and rescheduled after major problems were revealed in 2013, and is now likely to be fully in place by 2019. But a draft programme plan dated 13 April 2012 (see diagram, below) – released last month under the Freedom of Information (FOI) Act, targeted a "go-live" date of 28 October 2013.
The schedule aimed to complete the Pathfinder trials to test the system by 1 October 2013 – the Pathfinder stage of the programme is still underway now.
The 2012 programme plan was finally disclosed after a lengthy legal case in which the DWP repeatedly attempted to prevent the release of the document under FOI. Three other project documents from the early stages of Universal Credit are also being considered in the ongoing court case, including the risk register and an external project assessment review.
In a tribunal judgement on 20 July 2015, judge Edward Jacobs revealed some information about the content of the disputed documents for the first time.
"The Risk Register lists problems that might happen and action taken to prevent them. It is a long document, running to 100 pages, with analysis of each of the potential problems. The Issues Register lists problems that have happened together with action being taken to resolve them. It is a short document with only seven entries," said Jacobs in his published findings.
"The Project Assessment Review differs from the other documents. Unlike them, it is not compiled by the project team, but is an assessment of progress from the outside. It sets out the findings of the review team together with areas of concern and recommendations. It consists of 30 pages."
John Slater, the independent IT programme and project manager who submitted the FOI request to DWP, said even these brief remarks from the judge suggest how badly the Universal Credit project was run in its early years.
"It simply isn't conceivable that a programme the size and complexity of Universal Credit would only have seven issues if it was being run properly. At such an early stage of the programme and using a new agile approach I would have expected the number of issues to be comfortably over 100," he said.
"It is harder to judge the risk register as I don't know if it is one risk per page or a single risk spreads over multiple pages. At such an early stage in the programme I would have thought just the five areas shown on the milestone schedule would have generated well over 100 risks."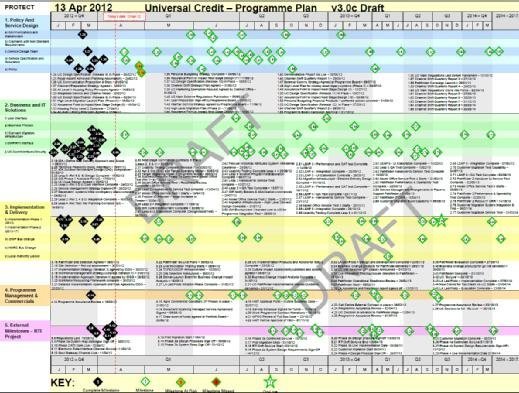 Read more on IT for government and public sector