dade72 - Fotolia
Digital government 'a chance to build a new state', says Cabinet Office minister Matt Hancock
Cabinet Office minister Matthew Hancock says the move to digital government is a "chance to build a new state" in a speech outlining his priorities
Cabinet Office minister Matthew Hancock said the move to digital government is a "chance to build a new state", as he gave a speech outlining his priorities as the man in charge of digital reform across Whitehall.
Hancock made the case for the economic benefits of digital government – "The modern equivalent of the canals and railways that made industrialisation possible," he told delegates at the Digital Leaders conference in London. "Think what an economic boost this would be."
"This is our chance to build a new state, crafted around the needs of the user. Using the best and most innovative technology to cut costs and improve services. Not the all-encompassing state of the 20th century, but a state you can hold in the palm of your hand."
Hancock attempted to stake his personal digital credibility by showing the audience his Apple Watch, admitting that he "uses AirBnB all the time", and joking that, if he said anything outrageous, it would instantly make it into a Vine video on social media.
But he also gave the first hints of the likely priorities for the emerging government as a platform strategy, highlighting common platforms for payments and tracking the status of transactions.
Government as a platform
"Many of the most successful companies in the world take a platform-based approach – companies like Google, Apple and Paypal. We too are building a common set of platforms, core digital plumbing which can be used by services across government," said Hancock.
"For example, almost every part of government maintains a separate system for making and taking payments, often from the same people. A common payments platform can help integrate services while saving money. And we know citizens care about the status of their transactions. They've been able to track their parcels online for years. We should be aiming for the same level of service in the public sector, at the bare minimum."
"Around a quarter of phone calls to the DVLA are drivers checking up on the status of their applications. That's why we're prototyping a status tracking platform that could be used by any service, allowing citizens to track and trace an application, a request, a purchase or a repayment in a few simple clicks. So whether you're tracking a passport, or a driving licence application, a common platform has the potential to give better service at a lower cost."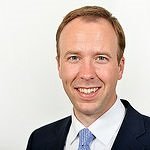 Hancock (pictured, right) also echoed his predecessor, Francis Maude, in emphasising the importance of building digital government around the "user" – that is, the citizen – rather than the mechanics of government.
"In Finland, town planners will visit a local park immediately after a snowfall, because the footprints reveal the paths that people naturally choose to take. These 'desire paths' are then paved over the following summer. We too must pave the paths people travel," he said.
"Let's take a small example. 'Registry offices' are officially known as 'register offices'. But everyone in real life calls them called 'registry offices', so no-one ever really searches for 'register offices' online. We've paved the path that people travel, so the Gov.uk page comes top of the search results, even if you search 'registry' office."
The Cabinet Officer minister acknowledged government still has much to learn in its digital transition. "On digital government we, and a handful of other countries, are the 'source code'. There isn't a playbook for this, so over the last five years we've had to innovate and experiment, seeing what works and what doesn't," he said.
Speaking in a later session at the same Digital Leaders event, internet entrepreneur Martha Lane Fox – whose report on digital government for the Cabinet Office led to the creation of GDS – welcomed the fact that "more people in government understand more stuff [about digital] than ever".
But she pointed out that issues such as the digital skills shortage and the need for better broadband infrastructure will hold back the government's ambitions. She called for a national plan for digital to be owned by one person at the highest level of government.
Hancock's recent speeches
Hancock has been busy on the conference circuit since his appointment after the May 2015 general election. In a speech to the Reform thinktank last week, he called for a "data culture" across government to help make better decisions on where best to spend money on an austerity budget. "Instead of a target culture we are moving to a data culture, where we use data analysis to guide the service in real time," he said.
In May, Hancock told an Institute for Government event that the future of government service delivery and policy making will be increasingly focused around an agile approach. "Small teams of developers building a product quickly and cheaply, then iterating to improve it – not through long consultations and private advice, but by seeing how it survives contact with reality," said Hancock.
"It will more and more be the way of the future – not just in digital but for all policy-making and service delivery."
The Government Digital Service (GDS) is working on a plan for government as a platform (GaaP), identifying the services that need to be developed first and working with the Treasury and consultancy McKinsey to make a business case for the potential savings.
GaaP is likely to be the major digital focus for government in the next few years, after GDS led the development of digital transactions for many of the highest-volume services during the last Parliament. However, critics claimed that GDS has underdelivered on the targets it set.
Read more about digital government
Government departments are not making the savings digital services were aiming to deliver
As the general election approached, Computer Weekly looked back at the highs and lows of the last five years in government IT
The government aims to have 90% of the UK's online population using digital public services by 2020
Read more on IT for government and public sector