Alastair Staley for Envision Vir
CIO interview: Sylvain Filippi, managing director and CTO, Envision Virgin Racing
The motorsport company's managing director and chief technology officer wants to use data and technology to prove benefits of electric vehicles and win "in the right way"
Being first across the line is the ultimate aim of any motorsports team, but for Sylvain Filippi, managing director and chief technology officer (CTO) of the Envision Virgin Racing team, being competitive on the track is just one element of a much greater competition.
"If we were in a race team 50 years ago, then everything would just be about racing and winning – and that would be it. We still have that focus, but it goes much beyond that – we want to be winning in the right way," he says.
Envision Virgin Racing is one of the leading teams in Formula E, which is a single-seater motorsport championship that only uses electric cars. For Filippi, winning the right way is about using data and technology to help prove the benefits of electric vehicles. "I'm basically a huge fan and huge promoter of electric car technology," he says.
"I'm convinced this is the way forward, but I'm not a big fan of forcing people to do it. I want it to be exciting, and Formula E is the perfect place to do that. We get to develop amazing technology that's really moving the goalposts in terms of what electric cars can do."
Filippi says those advances take place through the sport in two key ways. "It's a laboratory for electric car tech – and for the geek in me, that's a lot of fun. Second, it's a huge marketing platform. How do you make electric cars exciting? Well, racing is the obvious place to start. So we get to do both in one sport, which is pretty great," he enthuses.
Combining technology and business
Having cut his automotive teeth at DaimlerChrysler, Filippi spent a few years in consulting where he explored the potential for electric vehicles. He joined Envision Virgin Racing as one of the founders of the team in the CTO position in January 2014.
"We started the company and then we were racing six months later in Beijing," he says. "Formula E is fantastic and I feel very fortunate to be part of it. It's not every day you get to be part of a brand new sport, especially with such a great purpose."
He added the managing director role to his portfolio in June 2018. Moving from technology to a senior business role is a rare move. However, Filippi says the mix of technical knowledge and business know-how works well in motorsport, particularly in Formula E.
"In an extremely competitive championship, data helps me to understand all the aspects related to technology as well as running the business. Both sides are equally fun, even though the racing can be a bit more stressful, but that's all part of it"

Sylvain Filippi, Envision Virgin Racing
"It's useful to understand the tech side of things because that helps us make sure we always go in the right direction," he says. "I have a bunch of extremely intelligent and talented engineers and I won't claim to understand everything they do, but it helps to understand most of what they do."
Filippi runs a 40-strong race team that he describes as highly focused and highly efficient. Having a hand in both the business and the technology camps helps him to oversee a fast-moving and demanding operation.
"In an extremely competitive championship, data helps me to understand all the aspects related to technology as well as running the business. Both sides are equally fun, even though the racing can be a bit more stressful, but that's all part of it," he says.
Using software to boost performance
Technology is, perhaps, more crucial to success in motor racing than any other sport. But when it comes to creating advancements, the role of data is even more critical in Formula E than in other forms of motorsport. That's a sentiment that chimes with Filippi.
"Electric cars are 50% hardware and 50% software – but in racing, technology makes a huge difference," he says. "In my team, I have the usual setup of race engineers, performance engineers, system engineers – the guys who look after the race car and who make it reliable and fast – but I also have a whole team of software engineers that normally wouldn't exist in a team of our size."
This focus on software means there are some big differences between car development in Formula E and other forms of motorsport. The hardware in the team's car is pretty much the same at the end of a season as at the start – something that would be unthinkable in Formula 1. On the other hand, the software of the car across the same period changes radically.
"We'll have done about six software updates to the car and, at the end of the season, it is significantly faster than it was eight months before, even though it's exactly the same car. Because it's an electric car, there's so much you can do through software," he says.
Filippi gives the example of energy profiles, which cover how the car is powered. "That could be in terms of when and at what part of the corner energy is used and so on – it's super-sophisticated, and all of that is software and programming. In terms of technology, Formula E is another level because half the performance comes from there."
Exploiting data science
To give his team every chance of success, Filippi is working with global professional services firm Genpact. Envision Virgin Racing is using Genpact's data science skills to improve collaboration, generate predictive insights and enable a more adaptive workforce. It's a strong partnership that Filippi says developed out of necessity.
"I have a team of fantastic people, but I don't have any data scientists – motorsport has never worked that way," he says. "We generate a gigantic amount of data in every session, but we have nowhere near the time to analyse all of it, so we need to start thinking about what artificial intelligence and machine learning can do for us in terms of analysing and gathering a gigantic amount of data in a short amount of time."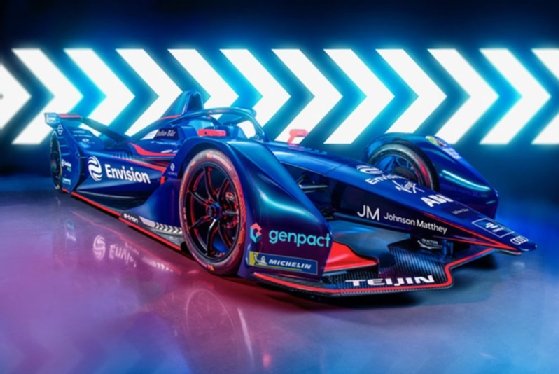 Filippi says Genpact is providing the data science expertise to help Envision Virgin Racing exploit this information. The partnership started two years ago and Genpact is now helping the team to think about how cutting-edge technology might create a competitive advantage in a range of areas.
One of these is car performance, such as the energy profiles that Filippi touched on earlier. Genpact is also helping the team to hone its race strategy. Formula E includes a range of race-day elements, such as Attack Mode, which allows teams to temporarily raise the power output of a Formula E car. Using that boost at the right time can have race-changing implications.
"We need to be able to do a lot of things at the same time," he says. "So any help we can get from models or anything we can automate helps us to make the right decisions. You can make fast decisions, but making the correct decision fast is very difficult. Genpact is helping us to be more reliable and to make fewer mistakes than our competitors."
Staying productive at all times
In a story that will be familiar to other business leaders, Filippi says the past year has presented a range of challenges due to the coronavirus pandemic. Formula E took a five-month break from March last year until the season restarted in August. A new season began in January 2021. Despite the unusual sporting calendar, Filippi says running the team was less complicated than might have been expected, thanks to technology.
"We'd never worked at home before – we have a factory and we're pretty old school in that sense. But because we have super-good IT equipment, and because we are very used to working with data in a remote way, our changeover was very smooth and there was no disruption as we went to working from home," he says.
This change in working processes has remained effective through 2021. Engineers continue to work on data models, while marketing and commercial staff focus on campaigns. What will be important in the longer term, says Filippi, is the legacy that Covid-19 leaves behind in terms of processes.
"We've learned to make the make the best of both worlds. There are many situations where you have to work collaboratively and be together in an office or at the factory, but there are other circumstances where you can be more productive at home. So finding the balance, depending on the business, will be key," he says.
"Our job is to make electric cars really cool and make people want to drive electric cars. That's about making sure we keep developing super-exciting technology and coming up with fantastic marketing campaigns that keep people engaged"

Sylvain Filippi, Envision Virgin Racing
"But there will be a slight change in the way we operate, which I think will be for the better. Our productivity was already pretty high, but it might be even a bit better in the future because we'll be able to use all these tools that we now have. Two years ago, video calls didn't work half the time. That progress in itself has been huge, so there have been some positive moves forward."
Staying at the front
Reflecting on his achievements at Envision Virgin Racing, Filippi suggests his team and its partners have managed to create one of the most successful operations in Formula E. The aim now is to carry on being successful because it helps validate the team's pioneering work.
"Our job is to make electric cars really cool and make people want to drive electric cars. That's about making sure we keep developing super-exciting technology and coming up with fantastic marketing campaigns that keep people engaged. If we do all of this stuff really well then, then we can help develop great sentiment towards electric cars – and that's what we need to be doing," he says.
"Ultimately, it will be very hard to quantify how many more electric cars we've managed to put on the road by what we do, but none of the things we're doing are hurting – it's going in the right direction. That's what makes me very excited to wake up in the morning – this job is a lot of fun."
Read more CIO interviews
Warren Breakstone, S&P Global Market Intelligence's managing director and chief product officer for data management solutions, talks about using data to make better decisions and how to continue innovating in a fast-moving market.
Tom Read, the new chief at the Government Digital Service outlines a three-year strategy for the organisation and tells Computer Weekly he wants to get back to the core focus of building products for use across government.
Settling into her new role at packaging business DS Smith, Claire Dickson is working to make strategic progress, smart, data-led changes and create a five-year digital strategy.
Content Continues Below

Download this free guide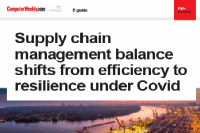 Supply chain management balance shifts from efficiency to resilience under Covid
This e-guide explores these matters, beginning with a comprehensive article that ranges over supply chain management, from a macro level through how trading platforms have been flexed to switch suppliers rapidly down to how robots have been quickly deployed to solve problems of scale.