Legacy data and IT issues 'laid bare' during Covid-19, says NAO
The pandemic has exposed challenges with legacy data and IT systems in government, and has made the government response more challenging, says the National Audit Office
The Covid-19 pandemic has "laid bare" issues caused by legacy IT within government, according to the National Audit Office (NAO).
A report by the NAO looking at the pandemic found that although there has been great work done by the government, it has also exposed serious challenges with legacy data and IT systems.
The use of data has been crucial to the government's Covid-19 response, but "timely sharing of data has not always occurred", said the NAO.
"The insight generated through reliable data is crucial to the way government delivers services for citizens, improves its systems and processes, and makes decisions," said the report. "Our work has repeatedly emphasised the importance of evidence-based decision-making at all levels of government activity and the problems that arise when data is inadequate.
"The pandemic has again highlighted the role of high-quality data in enabling effective service delivery, monitoring and improvement. It has generated new datasets and data collection processes that can be used to inform future service delivery."
The NAO said issues with legacy IT and data remain challenging, and that initially, local authorities did not have access to all the NHS Test and Trace data they needed "to deliver their local pandemic response".
When shielding was introduced for people thought to be clinically extremely vulnerable (CEV) to Covid-19, it took several weeks to identify and communicate with those who needed to shield, said the report.
"This was largely down to the challenge of extracting usable data from different NHS and GP IT systems," it said.
"Limitations in the accuracy and completeness of the data used and collected by government have affected some pandemic response measures. For example, NHS England & Improvement (NHSE&I) sent letters to all those advised to shield. However, missing or inaccurate telephone numbers within NHS patient records meant that the shielding programme could not follow up these letters with calls to some 375,000 CEV people."
Read more about the NHS and IT
The report added that data limitations have also affected the government's ability to assess the effectiveness and value for money of some of the programmes.
NAO head Gareth Davies said the pandemic has "required government to respond to an exceptionally challenging and rapidly changing threat".
He added: "There is much to learn from the successes and failures in government's response and this report is our initial contribution to that process. Applying these lessons is not only important for the remaining phases of the current pandemic, but should also help better prepare the UK for future emergencies."
The integration between NHS and social care, or rather the lack of it, has also been highlighted during the pandemic. The NAO said one of the key learnings from the pandemic is to ensure social care and health is integrated and that social care is on an equal footing with the NHS.
"Issues predating the pandemic made responding to the crisis more difficult in some areas," it said. "The relationship between adult social care and the NHS has been challenging for decades.
"Prior to Covid-19, there was no process in place to collect a wide range of data from providers regularly. In response to Covid-19, the Department for Health and Social Care (DHSC) has increased the data it obtains on care providers and it intends to legislate for new powers to collect further data. As part of its adult social care winter plan, DHSC carried out a review of risks to local care markets and service continuity issues, offering targeted support."
Content Continues Below

Download this free guide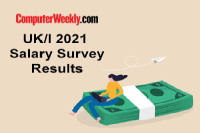 2021 UKI Salary Survey - Diversity Infographic
We take a look at our 2021 Salary Survey results from over 300 respondents who work in the UKI IT sector. We will be breaking down which job functions get paid what, what areas of IT companies will be investing in in 2021, the current diversity landscape residing in the UK tech sector and how the pandemic has effected IT staff.