cherezoff - stock.adobe.com
AWS HPC tech selected to help Ineos Team UK secure first British victory in the America's Cup
America's Cup hopeful Ineos Team UK has selected Amazon's cloud-based High Performance Computing (HPC) technology to help it achieve its goal of becoming the first British competitor to win the tournament in its history
Amazon Web Services (AWS) has secured a contract that will see its high-performance computing (HPC) technologies used to support efforts to secure a British victory in the America's Cup sailing tournament for the first time.
First time entrant, Ineos Team UK, has set its sights on bringing the cup home for Britain when the next tournament takes place in Auckland, New Zealand, in 2021, with its two 75-feet-long AC75 racing boats.
The tournament is renowned for being the oldest international sporting event in the world, with the first event taking place in 1851 as a tie-in to The Great Exhibition, which as a means of showcasing British technologies and innovations.
The Ineos Team UK was founded in 2018 with the primary aim of securing the first win for Britain in the cup's history, with the help of Amazon's cloud technology portfolio.
The vessels' design will be informed by performance simulation data, as the team uses AWS's HPC technology to run computational fluid dynamics (CFD) that will enable the team's designers and engineers to iteratively tweak it based on the insights gleaned.
Specifically, the organisation is making use of the cloud giant's Intel-powered Amazon EC2 C5 instances, that are running on dedicated hardware and lightweight hypervisor technology provided by the AWS Nitro System offering.
It also makes use of Amazon Spot instances, so that it can tap into lower-cost, surplus EC2 capacity at certain times to improve the cost efficiency of ever simulation it runs, alongside the firm's managed version of Lustre open source high-performance file system.
Going cloud-based
According to the team, swapping out its legacy on-premise HPC infrastructure for AWS's cloud-based offerings means the Ineos engineering team can run up to 1,200 of these performance simulations a day, which is 20 times more than previously possible.
This, in turn, has sped up the time it takes to refine and improve upon the design of the boats, which could have a potentially huge bearing on the performance of the vessels when on the water, Ineos Team UK's chief designer, Nick Holroyd, told Computer Weekly.
"The physical lead times to build these things are quite long, and those are all constraints on the design time. And fundamentally, in optimising a piece of engineering, be it boat, a car or whatever, there are two sides to the story that that are really critical to us: one is we need very high fidelity," he said.
"So we need kind of accurate predictions of how the boat might behave, and the second thing is we need to kind of be able to throw new designs in, and iterate on those and cycle that iteration as quickly as we can."
And to achieve both these things requires access to large-scale compute resources, which is why the organisation has made AWS its official cloud computing partner, said Holyroyd.
"We need big computers with large memory footprints and multi-core type machines, and we need to be able to scale it out to a very large number of simulations," he added.
Read more about the America's Cup
The use of CFD makes is possible for the Ineos engineering team to model the aerodynamics of the boat, while simulating the impact that air and liquid will have on how different parts of the boat will behave in a race environment.
This means the team can test hundreds of possible racing variables, including changes in wind direction to how the material the sails are made out could affect performance, in a very short amount of time.
Being able to this is particularly important for next year's event following the introduction of a new rule by its organisers that means teams are prohibited from physically testing multiple boats, or boating components, in wind tunnels and water test tanks, for example.
At the same time, the organisation has been limited in the amount of it can spend out on the water due to the Covid-19 pandemic, which means its ability to simulate race conditions has become even more integral to the design of its boats and training schedule of its team, said team principal and skipper former Olympic sailor Sir Ben Ainslie.
"Working with AWS for the first time this year has given us access to more and faster computational resources, which has proven crucial in developing the fastest race boat possible. It has helped the team push ahead as we continue to design and develop our race boat for the America's Cup," he added.
It has also put the team in a stronger position to ensure the America's Cup is brought home to Britain for the first time, added Holroyd. "By leveraging AWS's virtually unlimited compute power, scalability, and resilience, we believe we're in a strong position to design the boat that can bring the America's Cup home to Britain."
Content Continues Below

Download this free guide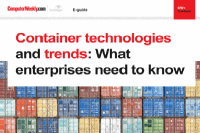 Container technologies and trends: What enterprises need to know
In this e-guide, we take a look at how and why enterprises are tapping into containers to bolster the business agility of their IT infrastructure and application estates, and some of the latest thinking about how best to utilise container technologies.
Read more on Clustering for high availability and HPC