sarayut_sy - stock.adobe.com
US, South Korea to drive 5G to reach 1.5 billion users by 2025
Aggressive pricing strategies and extensive device support, especially in the US and Korea, set to drive an explosion in 5G uptake over the next five years
A study from Juniper Research is predicting a global 5G bonanza over the next five years as the industry enjoys annual average growth of 150%, rising from five million 5G connections in 2019 to a total of 1.5 billion by 2025.
The 5G market strategies: Consumer & IoT opportunities & strategies 2020-2025 study found that, to date, aggressive pricing strategies and extensive device support have enticed more than five million subscribers to 5G networks globally.
Annual operator billed revenue from this growth in 5G connections is set to exceed $365bn by 2025, rising from $2bn in 2019. This would represent average annual growth of 140% over the next six years.
The study also predicts that the market will be given an initial kick-start by the US and South Korea, which are projected to comprise as much as three-quarters of all subscribers by the end of 2020. The research notes that pricing strategies from operators in the US and South Korea have aimed to rapidly migrate users to 5G networks by offering low-cost connectivity. However, Juniper warned that this strategy would prolong operators' primary goal of securing a return on their substantial 5G investment.

Conversely, in other regions such as Europe, operators have focused on maximising early 5G revenue by applying premium pricing. The analyst urged operators in these regions to expand geographical 5G coverage via base station roll-outs to maximise the value proposition of 5G and justify the premium pricing.
The study also forecasts that a significant number of 5G-supporting devices will further increase the immediate adoption of 5G connectivity. It noted that early launches of fixed wireless access (FWA) routers will provide operators with an immediate platform to launch broadband services that use 5G networks as a last-mile solution.

"We expect 5G to be used for over five million broadband connections by the end of 2020," commented research author Andrew Knighton. "Operators will need to provide 5G whose bandwidth and latency matches or exceeds current internet services. Otherwise, they risk missing out on this valuable new revenue stream."
Content Continues Below

Download this free guide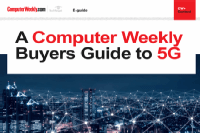 A Computer Weekly Buyers Guide to 5G
Despite the fears of many that rollouts of the next generation infrastructure would be delayed or just not be possible due mainly to the adverse economic conditions caused by Covid-19, the prospects are actually quite bright for the 5G industry in 2021. Download this EGuide to find out what enterprises need to know about 5G.