Guido Vrola - Fotolia
Risk & Assurance Group joins i3forum to combat telecoms fraud
Telecoms risk information and advice service signs up as latest partner member in not-for-profit industry body that brings together the international carrier ecosystem to enable and accelerate transformation
To assist in its mission to tackle voice fraud in international telecommunications and boost collaboration and accelerate the fight against fraud across the entire carrier ecosystem, i3forum has added telecoms risk information and advice service Risk & Assurance Group (RAG) as its latest partner member.
Not-for-profit industry body i3forum brings together the international carrier ecosystem to enable and accelerate transformation. Its members promote industry-wide collaboration focused on enabling success in a changing market, where members develop and curate practical recommendations and best practice for adopting and delivering new technologies, solutions and business models.
RAG attracts experienced professionals who openly exchange ideas, helping telecoms risk managers to develop techniques and tools to counter risks, frauds and leakages. It holds four annual conferences that regularly discuss wholesale fraud.
The ITW Global Leaders' Forum (GLF) and i3forum recently launched an industry-led code of conduct to reduce fraud in the international wholesale market. This was signed by industry leaders including Telia Carrier, Telstra, Vodafone, BT, Colt, Deutsche Telekom ICSS, Etisalat, Orange, PCCW Global, Telefónica, and Türk Telekom International.
Fraud costs the telecoms industry $33bn annually according to a 2019 report from Europol and Trend Micro. As a partner member, RAG will join the Fight Against Fraud work group currently chaired by Katia Gonzalez Gutierrez, head of fraud prevention operations and services at BICS.
The group provides guidelines to the industry on fraud-related matters from a wholesale carrier perspective, as well as support to members on current fraud events.
"The addition of RAG to the i3forum as a partner member brings unique expertise to our fraud work group and continues to build on our momentum in the fight against fraud," said i3forum chairman Philippe Millet.
"Across our industry, there is growing recognition that combating fraud requires a coordinated, collaborative and industry-wide effort. No single carrier will solve its fraud challenges alone. It takes the support of the entire carrier community. RAG shares our not-for-profit approach and is a great fit for our organisation. We look forward to working together to fight fraud across our industry."
"I3forum has created tremendous momentum in the fight against fraud. It is driving the conversation throughout the carrier industry and facilitating collaboration through its work groups and events," added Eric Priezkalns, chief executive at Risk & Assurance Group.
"At RAG, we support collaboration and are excited to assist i3forum as it brings together carriers and vendors in the telco community. We hope our involvement will add new insights and get more of our members involved in tackling fraud on a wider scale."

Download this free guide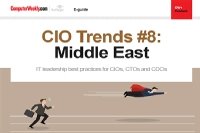 CIO Trends #8: Middle East
Join us as we take a look at Bahrain and its efforts to make itself the go to fintech hub of the Middle East, the rapid progress being made in Dubai as the government strives to make the city smart and how the region is reacting to the implementation of 5G.
Read more on Telecoms networks and broadband communications