terovesalainen - stock.adobe.com
Women in tech show strong presence in 2020 New Year's Honours list
The New Year's Honours list showcases many women from the IT world for service to the technology industry, equality and STEM education
A number of women, as well as others from the science, technology and education sectors, have made an appearance in the 2020 New Year's Honours list.
Many of the women recognised also appeared on Computer Weekly's 2019 list of the 50 Most Influential Women in UK Tech.
This year, the list has an emphasis on the diversity of the people doing amazing things across the UK, with women representing more than half of those recognised, as well as 9.1% of successful candidates coming from a BAME background, 11% considering themselves to have a disability and 3.3% identifying as someone from the LGBTQIA+ community.
A statement on the GOV.UK website claimed: "This Honours List continues to demonstrate the breadth of service given by people from all backgrounds from all across the UK."
Sharon White, the former chief executive of Ofcom, was made a Dame to recognise her "public service" during her time at the telecoms regulator.
White, who has appeared several times on both Computer Weekly's list of the Most Influential Women in UK Tech and its UK Tech 50 list of influential people in UK tech in general in past years, stepped down from her role as Ofcom chief executive at Christmas, after four years.
She was both the first woman and the first black person to lead the telecoms regulator, and announced she would be moving on to become chair of the John Lewis Partnership.
Read more about women in tech
FDM Group chief operating officer Sheila Flavell is another regular on Computer Weekly's women in tech list.
On the New Year's Honours List, Flavell was listed under the Commanders of the Order of the British Empire for services to services to gender equality in IT and graduate and returners employment.
As well as helping women to find roles in tech and helping people return to work through FDM, Flavell also sits on the main board of TechUK and the Women in Tech Council.
Hayaatun Sillem, chief executive of the Royal Academy of Engineering, appeared on this year's Honours list for services to International Engineering.
Sillem has previously been recognised on the Inspiring 50 list of UK women in tech role models, and was also featured on this year's list of the Most Influential Women in UK Tech.
Before becoming CEO of the Royal Academy of Engineering in 2018, Sillem held roles as CEO and director of strategy, director of programmes and fellowship, and head of international activities.
One of Computer Weekly's Rising Stars, Caroline Hargrove, the chief technology officer of Babylon Health, was recognised on the Honour's list for services to engineering, and Computer Weekly women in tech longlist member Christine Hodgson, chair of Capgemini UK and the Careers and Enterprise Company, was recognised for services to education.
Others recognised
Others recognised on the list for their commitment to technology, engineering and STEM education include:
Professor Lynn Faith Gladden, executive chair, Engineering and Physical Sciences Research Council, for services to academic and industrial research in chemical engineering
Peter Kenneth Estlin, former Lord Mayor of London, for services to international business, inclusion and skills
Andrew William Graham Wylie, co -founder, The Sage Group plc and chair and founder, Technology Services Group, or services to Business and charity
Professor Colin Gareth Bailey, president and principal, Queen Mary University of London, for services to engineering
Jennifer Mary Body, for services to aerospace engineering
Andrew Maurice Gordon Bud, chief executive officer, IProov and global chairman, Mobile Ecosystem Forum, for services to exports in science and technology
Andrew James Green, former chair, Digital Catapult, for services to the information technology sector and to the British space industry
Timothy Robinson, non-executive director, Department for International Development, for services to digital technology
Dr Andrew Dawson Taylor, former executive director of national laboratories, Science and Technology Facilities Council, for services to science and technology
Rachel Surrethun Coldicutt, chief executive officer, Doteveryone, for services to the digital society
Alan Herbert Digman, former IT security officer, Department for Business, Energy and Industrial Strategy, for services to government security and to charity
Dawn Rebecca Fitt, engineering apprenticeship training co-ordinator, Bedford College, for services to training, inclusion and diversity in engineering
Jeanette Linda Forbes, chief executive, PCL Group, for services to business, technology and charity
Thomas Collingwood Hughes, consultant in emergency medicine, Oxford University Hospitals NHS Foundation Trust, for services to healthcare technology and information
Kim Mears, for services to the Telecommunications Industry
Dr William Peter Robin Mitchell, for services to computing and artificial intelligence education
Paul Anthony Smith, co-founder and chief executive officer, Ricochet, for services to technology in Newcastle upon Tyne
Olanike Adefemi Folayan, co-founder, Association for Black and Minority Ethnic Engineers UK, for services to diversity in engineering
Annette Julia Henley, lead engineer for infrastructure, National Communications Data Service, Home Office, for services to raising awareness of mental health issues
Yewande Modupe Mayomi-Akinola, principal engineer, Laing O'Rourke, for services to engineering and diversity in STEM design and innovation
Agnes Mitchell Johnstone, head of mathematics, Oban High School, for services to STEM education and the community in Oban
Content Continues Below

Download this free guide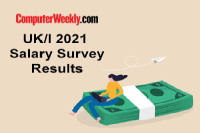 2021 UKI Salary Survey - Pandemic Infographic
We take a look at our 2021 Salary Survey results from over 300 respondents who work in the UKI IT sector. We will be breaking down which job functions get paid what, what areas of IT companies will be investing in in 2021, the current diversity landscape residing in the UK tech sector and how the pandemic has effected IT staff.