heyengel - stock.adobe.com
Obama at Dreamforce 2019: Leaders orchestrate the conversation
Former US president Barack Obama spoke in a fireside chat with Salesforce co-founder Marc Benioff at Dreamforce 2019. He cautioned on the dangers of the information age and offered some advice for business leaders
Former US president Barack Obama told an audience at Dreamforce 2019 that the job of a leader is to "orchestrate" the conversation, not to be the smartest person in the room.
Obama was taking part in a fireside chat with Salesforce co-founder and co-CEO Marc Benioff.
He gave the example of how his appointment of Nobel Prize-winning physicist Steven Chu as secretary of energy came up trumps in 2010 at the time of the BP Deepwater Horizon oil spillage in the Gulf of Mexico. Chu drew a solution ("a little hat") to successfully plug the well that the oil company had created. Obama said he understood not one word of what Chu had said, but he could take credit for having appointed him in the first place.
"You have to have people smarter than you sitting around the table," he said. Often, leaders make the mistake of wanting to surround themselves with people who will defer, he added. Critical insights would often come from junior staffers sitting against the wall of the cabinet room in the White House, said Obama: "The people who do the work."
He said that in situations where a leader is making "probabilistic decisions" – 51/49 ones – he or she cannot rely just on themselves. Instead, they need to have processes to bring the insights of others to bear, and the more diverse a team, the better.
"Diversity is not charity", said Obama. "We all have blind spots. And if you don't have women at your table, you are missing a mark."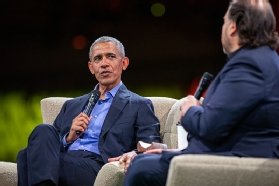 The ex-president joked that in his own family, his wife Michelle is management and he is labour. And the two things he tells his daughters are to be "kind and useful".
Talking about western societies, Obama said technology and globalisation have bred insecurities, and those things have to be fathomed. "This is a dangerous moment," he said, drawing a contrast with his own childhood and youth, when the US had only three TV stations. "So we shared something," he said. "If you watch Fox News today or read the New York Times, you have different realities.
"When you have big disruptive internet technology, it can be a dangerous moment. Part of what happens is people don't know what's true and what's not, and they don't know what to believe."
The rise of "extreme inequality" in the wake of the expansion of technology and globalisation, both within and between countries, is a major concern, said Obama – second only to climate change.
Societies like that of the US need "people who believe in the market and technology" but who do not endorse materialistic values, he said.
Read more about Barack Obama and technology
Barack Obama – top technology quotes.
Obama's cyber security executive order issued for critical infrastructure.
Technology firms appeal to Obama over Prism scandal.
"In part fed by social media and technology, we're chasing after the wrong things, we want the wrong things," he added. "So much of the anger and frustration has to do with issues of status."
And it was to that end that Obama and his wife set up the Obama Foundation Scholars Program to train the next generation of world leaders.
Benioff asked Obama how he finds these young leaders and what advice he had for the audience in finding young talent for their own businesses.
Obama said it is more a matter of sending out a "Bat signal" to attract talent. "Leadership is not about you having your name in lights, but identifying the power of other people and unleashing that," he said. "Then people will want to work for you."