beachboyx10 - stock.adobe.com
England manager Gareth Southgate tells how data analytics and cloud have helped the FA modernise
England football manager tells Google Cloud Next UK conference how the FA is using big data and cloud collaboration tools to change the organisation's culture and improve players' performances on the pitch
When Gareth Southgate joined the Football Association (FA) to manage the England under-21 squad in 2013, he joined an organisation facing some serious challenges with how it was perceived by the outside world, and how it operated.
First and foremost, the FA needed to modernise, become more inclusive and, in the process, somehow win back the affections of football fans across the nation who had become steadily disillusioned with the England squad after a run of disappointing performances in major tournaments.
Around the time of Southgate's appointment, the FA also brought in a new chief executive and technical director, and soon the scene was set for a technology-led culture change to take hold.
"The biggest thing was changing culture," Southgate told attendees during the first-day keynote at the Google Cloud Next user conference in London. "The FA has historically been viewed as old men with blazers, out of touch with the rest of society. We had national teams that hadn't performed well, and we knew we needed to modernise."
One of the first steps in this process involved rolling out Google's cloud-based online productivity portfolio of products, G Suite, to improve collaboration and communication between the FA's staff at Wembley Stadium and at its training facility at St George's Park in Burton upon Trent, Staffordshire.
According to Southgate, such new ways of working can take a bit of getting used to for him and many of the other FA coaching staff, who are responsible for training 28 national sides that the organisation is tasked with looking after.
"At times, it's been uncomfortable," said Southgate. "Although I'm reasonably technology literate, every time we started a new system and I had a new password and new software to learn how to use, I think for a lot of us as coaches, that can be a difficult space.
"Ours is a game where, generally, when you ask people why they do things, the answers is: 'Because that's what we do in football. We've always done it that way. Why would we do it differently?'
"It's a change project and that's always going to find resistance, and until you start to have some small wins, which at times can take maybe two or three years to achieve, there is always a slight reluctance to really follow the path of the new leaders."
Those "small wins" have included a new-found level of organisation and consistency in the way the coaching side of the FA works, said Southgate.
"When I took over [as manager of the senior England team in 2016], there were no records of the past from all the England managers there had been over 30 years," he said. "There weren't even written reports of what had happened in past tournaments to pass their learnings on. Now everything we do is stored and shared.
"We have 23 players [in a squad], but we have many more staff that work with the team than we have players. Some of them are at Wembley and some are at St George's, but they can all update these documents and tap into these documents, wherever they are in the world and whatever time of day.
"And the ability to share those things, in particular, has brought huge advancements."
Changing the game with technology
In recent years, football as a sport has become markedly more accommodating and accepting of new technology.
From an officiating standpoint, there has been the introduction of goal-line technology in the Premier League and the roll-out of Video Assistant Referee (VAR) tools. Meanwhile, the range of tools that exist and variety of data points that can be collected to monitor players' performance has markedly ramped up over the past decade.
Like a lot of modern-day football clubs, the FA makes use of GPS technology to track how fast and far players run during training sessions. There are also systems in place to track players' performance in the gym and how they sleep. Every training session is filmed, too.
There are also teams at the FA tasked with tracking the performance of England's opponents, while its marketing and communications teams track social media data to decide how best to build on, or improve, the team's levels of engagement with the public.
The technology the FA coaching staff now has access to is a world away from what Southgate's managers used when he was a player. Then, a post-match assessment of how players had performed usually involved watching the match back on a VHS tape recorder.
"Every game that's played in the Premier League, I can now have that footage [of players] on my laptop on the Sunday morning," he said. " I don't have to go and visit every match. I can visit a couple and those I can't get to, I watch all of the footage, which is clipped for me into individual actions.
"Within 12 hours of the game, wherever my players are in Europe, I can access how they played, how far they have run and all of that insight which helps us with selection."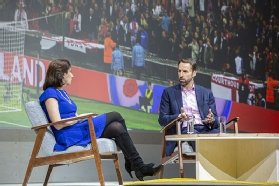 As well as deciding who his starting 11 should be, the data the FA coaching staff tracks also shapes when to make substitutions during a game, and plot the best way to approach penalties, corners and throw-ins, based on the past behaviour of opponents in any given scenario.
Data can have a transformative impact on how a game is played and can secure marginal improvements that can tip the balance of a game into England's favour. But it is important not to get too reliant on that, Southgate cautioned.
"We are awash with data and our challenge is to find really what is relevant for us," he said, in terms of deciding where the coaching team's time and effort would be best spent.
"In a lot of other sports, it's very clear that if you do X, Y, Z, you win," said Southgate. "In football, we're a low-scoring game with a lot of random events. And any blips in the data you could read too much into, but there are some consistent things that we know we need to do to be able to win."
Southgate expanded on this point during a post-keynote Q&A with the press, where he talked about the importance of taking a longer-term view of the data that the FA's coaching teams have at their fingertips.
"It's very easy to be critical of young players and it's very easy to place too much emphasis on one piece of data, but you need to see the patterns over a period of time," he said.
"Everybody will have a bad performance and with young players, that happens more regularly. And we have to be very clear on the message that we're going to give [those players] from a coaching perspective.
"There's lots of random things that can happen in a game of football. As a coach, sometimes the information [you receive] is really important. How you then interpret it and pass it down to the team is even more important."
In this instance, it is a case of working out the right level of detail to pass on to the players, from the insights the coaching staff have gleaned, because subjecting them to information overload can have a detrimental effect on how they play.
"Sometimes we can give them too much information, and their heads are full of confusion, and when you're playing, you need be as free [to think] as possible," said Southgate. "It's a balance between what you need as a coach, and how you use it and deliver it to the players, and to make it as simple as possible [for them to understand]."
Read more about the use of technology in football
Given that much of the training the England team do over the course of the football season is with their respective clubs, the FA is also reliant on the clubs to share their player performance data.
Each club has its own distinct style of play, and may be in the habit of tracking specific performance metrics in line with that, said Southgate. And it is the FA coaching team's job to sift through and make sense of that, to dig out the bits that are most important when trying to gauge the performance of the national side.
Another element to all this is that some clubs are more willing than others to pass on their players' performance data to the FA, which is their prerogative.
"Some clubs are willing to share everything," said Southgate. "Some clubs are willing to share small bits. Some clubs don't want to share anything. That's the reality. Understandably, for them, it's their intellectual property.
"The most important thing for us is to avoid injury, and the training load is a really key piece of data for us. It helps the club as well, because if we overload the player physically, he's got more chance of going back [to his club] injured.
"Everybody is in agreement on sharing that, but some of the on-the-pitch performance, people might be a little bit more guarded about sharing."
The football world is making huge technology strides in some ways, but there is still some way to go, said Southgate, given that it has only been within the past six months that coaches and managers have been permitted to use iPads in the dugout to get another view of how the game is going on the pitch.
"We did have that information before, but it was upstairs and then needed to be taken down and it's just an issue of speed of access to it."
Now the presence of technology is almost taken for granted, said Southgate. "Sometimes you think: do we use technology? And then you boil it down and realise we would be absolutely lost without it."
Read more on Software-as-a-Service (SaaS)