Carbon Black to open Australia datacentre in 2020
Australia datacentre comes on the heels of VMware's acquisition of Carbon Black and will serve organisations with data sovereignty requirements
Fresh from its acquisition by VMware, Carbon Black is planning to open a new datacentre in Australia in the first half of 2020 to support local firms bounded by regulatory and data residency requirements.
In a statement, Carbon Black said the new facility will deliver Carbon Black's cloud-native end-point protection capabilities, built on an extensive, cloud-scalable architecture.
This will enable enterprises in Australia and New Zealand (ANZ) to consolidate prevention, detection, response, threat hunting and managed services for endpoints and workloads into a single platform with a single agent and a single console.
VMware closed its acquisition of Carbon Black in October 2019 and created a security business unit led by former Carbon Black CEO Patrick Morley, who now serves as VMware Carbon Black's general manager.
"VMware Carbon Black remains committed to the success and protection for customers in the ANZ region," said Morley. "We know these customers have specific compliance requirements regarding data sovereignty and want to achieve the strongest form of endpoint and workload protection."
One such customer is Australia Post, Carbon Black's latest customer in ANZ. John Cox, CIO of Australia Post, said that as digital adversaries become more skilled in their techniques and technologies, the postal service needs to stay one step ahead by using advanced methods of defence.
"We selected VMware Carbon Black to deploy advanced, cloud-based endpoint protection across our entire corporate environment," he said. "This means we can protect our data against international threats before they hit Australia, and we'll have greater visibility across the entire environment and the ability to respond quickly to incidents."
VMware CEO Pat Gelsinger had said that Carbon Black's assets were "complementary and synergistic to existing VMware security products, AppDefense, Workspace One, NSX and SecureState".
He added that VMware would create "deep integrations" on the server workload side and combine endpoint management and security into a unified workspace offering.
The company is also planning integrations with VMware NSX and SecureState to reduce the attack surface, prevent sophisticated attacks and automate threat response for VMware customers.
But VMware's move will not turn it into a security supplier, said Simon Piff, vice-president of security practice at IDC Asia-Pacific, adding that the Carbon Black acquisition would benefit VMware customers the most.
"It will allow them to leverage the range of security technologies and offerings that VMware has been developing over the past few years and improve their overall posture – assuming they subscribe to what will clearly be offered as value-added services."
Read more about cyber security in ANZ
Content Continues Below

Download this free guide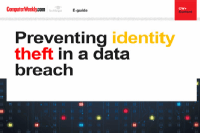 Preventing identity theft in a data breach
In this e-guide, we will explore the links between ransomware attacks, data breaches and identity theft. First, Nicholas Fearn investigates the phenomenon of the double extortion attack, and shares some insider advice on how to stop them, while we'll explore the top five ways data backups can protect against ransomware in the first place.