G-Cloud 10 fails to generate business for suppliers, study says
Research firm Tussell's study into G-Cloud reveals majority of suppliers listed in its report did not earn any revenue in 2018 through the public sector framework
A report on G-Cloud has suggested that the majority of the companies listed did not win any business from it in the year since the launch of a previous iteration of the public sector framework in July 2018.
The study, published by research firm Tussell, suggested that 86% of suppliers on G-Cloud 10 did not earn any revenue through the framework during the 12-month period.
According to a breakdown of sales through the procurement framework, published as part of the report on how to win more business through G-Cloud, only 480 out of 3,474 suppliers (14% of all companies listed) won any contracts.
"Being listed on G-Cloud is not an alternative for having a business development strategy," the report said.
To win business through the framework, the report noted suppliers "still have to be smart and proactive...mapping the market, pre-engaging with prospects and identifying go-to-market partners".
The Tussell report also found that in comparison with the wider public sector, customers purchasing through G-Cloud spent relatively more money with small to medium-sized enterprises (SMEs) than other cloud agreements outside the framework.
Since 2012, SMEs have won £1.8bn worth of work, the report noted, corresponding to 45% of all spend and exceeding the government's goal of spending 33% of all procurement with SMEs.
Large suppliers won £4.2bn of business through G-Cloud and led the ranking of contracts by value, according to the report. Since 2012, the leader has been software consultancy Equal Experts with £137m, followed by Capgemini with £136m, Deloitte with £103m, PA Consulting with £92m and UKCloud with £86m.
"Being listed on G-Cloud is not an alternative for having a business development strategy"

Tussell report
In response to the Tussell research, the Crown Commercial Service (CCS) argued that 965 suppliers were transacting during the period covered by the report. This would mean that 72.5% (rather than 86% reported in the study) had not reported any business. It would also mean 27.5% (rather than the 14% reported by Tussell) had actually won business.
CCS also disputed the report's figures around cloud spending with SMEs, noting that 44% of total spend related to smaller businesses, the equivalent of £2.35bn. On the amount of business won by large suppliers, it noted that big companies had actually won £2.75bn since the creation of G-Cloud.
Responding to the criticisms from CCS, Tussell's head of research Miranda Evans said the data used in the report was acquired directly from the Digital Marketplace's own website.
"If this data differs from CCS' internal figures, we would welcome them to update this open dataset with the figures they refer to," she said. "This transparency is essential for ensuring a healthy and competitive marketplace for technology services."
Wider public sector spend has been increasing through G-Cloud since 2012, however the report noted that 80% of spend has been by central government – accounting for £3.3bn in total. Top customers – which include the Home Office, the Ministry of Justice, HM Revenue & Customs and the Department for Work and Pensions – account for over 40% of the total spend.
The most recent iteration of the public sector cloud marketplace, G-Cloud 11, was awarded in July 2019 with a value of £1.95bn. It names more than 4,000 suppliers offering 30,000 services.
Since its first iteration in 2012 to the end of 2018, a combined £4.1bn has been spent through G-Cloud.
Content Continues Below

Download this free guide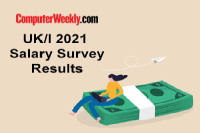 2021 UKI Salary Survey - Salary Infographic
We take a look at our 2021 Salary Survey results from over 300 respondents who work in the UKI IT sector. We will be breaking down which job functions get paid what, what areas of IT companies will be investing in in 2021, the current diversity landscape residing in the UK tech sector and how the pandemic has effected IT staff.