alexlmx - stock.adobe.com
5G awareness and interest high but consumers struggle to see benefits
The ramp-up of 5G networks would seem only a matter of time, but research suggests consumers are not yet seeing the light
With 5G networks across the major global markets being switched on with increasing regularity, backed by huge marketing campaigns, the ramp-up of the next-generation communications technology would seem a matter of time, but research is suggesting that consumers are not yet seeing the light.
According to research in August 2019 from CCS Insight among more than 2,000 mobile phone users in the UK and the US, even though there will likely be a billion global 5G connections by 2022, and consumers in the US and UK already have high awareness of 5G technology, with many taking a strong interest, services need to be better positioned and the benefits more clearly explained if services are to take off rapidly.
Moreover, the analyst warned that there are a number of potential barriers to adoption of 5G, including a lack of understanding of the main benefits, high smartphone prices and tie-in to existing mobile phone contracts.
Initial barriers to adoption of 5G services revealed in the study include a lack of need for 5G, indicated by nearly a third of respondents in the UK, with 70% saying they would prefer to wait until a mobile technology like 5G is proven before getting it. Tie-in to existing long-term phone contracts and an unwillingness to pay more to receive 5G were the other leading hurdles.
That said, the study also revealed that more than half of people surveyed expect 5G to play an important role in their next choice of mobile phone, and about a third of users plan to start using 5G on a mobile phone in the next 12 months.
In the UK, more than 90% of respondents said they had heard of 5G, but awareness was lower in the US, despite 5G services arriving more than six months earlier there than on this side of the Atlantic.
Assessing the findings of the study, Kester Mann, director of consumer and connectivity at CCS Insight, said the results of the survey reflect the impressive recent progress made in Europe.
"Who would have thought a year ago that Birkenhead and Bolton would get 5G services ahead of San Jose or Cupertino?" he remarked. "Europe is upping its game in 5G and narrowing the gap with the leading markets. There's a real opportunity for operators, handset makers and other players to gain market share in 5G by offering more innovative service plans and to better communicate 5G's benefits.
"Over the next year, 5G-capable smartphones will appear at much more attractive prices than the current highs of £1,000," said Mann.
Read more about 5G services
Content Continues Below

Download this free guide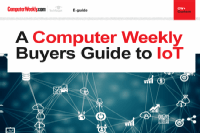 A Computer Weekly Buyers Guide to IoT
In these uncertain times, making solid predictions for the year ahead looks like a definition of a mug's game. While this has been the fuel for the fire for the boom in applications such as video conferencing as used to support remote working, the same really can be said for the internet of things (IoT). Download this E-Guide to find out what enterprises need to know about IoT.