Minerva Studio - stock.adobe.com
CIO interview: Hugo Mathias, CIO, Northampton General Hospital NHS Trust
For all the talk of a 'paperless NHS', replacing legacy systems and eliminating paper records is a challenge – but one that Hugo Mathias is tackling through real-time information and cultural change
Any patient interaction with the NHS is likely to involve the pushing of paper. From the Lloyd George envelopes that store patient records in local doctors' surgeries to the big folders that store healthcare information in hospitals, UK healthcare processes are still hugely reliant on paper – even in an age of digital transformation.
Health secretary Matt Hancock might have banned the NHS from buying fax machines, ordering a complete phase-out by April 2020, but that doesn't mean removing legacy systems and a reliance on paper is a straightforward task, no matter how many times the government promises a "paperless NHS".
However, that complexity doesn't scare Hugo Mathias, CIO at Northampton General Hospital NHS Trust.
"My priority is removing paper records over the next two years," he says. "I want to digitise the records and then make the information available. We are going to be an information-led hospital."

Download this free guide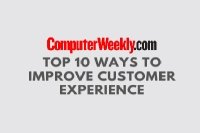 Infographic: Top 10 ways to improve Customer Experience
There are many methods to improve CX - some complex and costly, others relatively simple and inexpensive. But how do you know what's right for you, and where do you start? Here are 10 initiatives you can use to improve customer experience.
Read more on Healthcare and NHS IT