svetazi - stock.adobe.com
Singapore rolls out blockchain platform for verifying educational certificates
Employers in the city-state can now use the OpenCerts platform to verify the qualifications of employees and new hires
The Singapore government has developed a blockchain-based platform that will enable employers to verify the educational qualifications of employees and job candidates who have graduated from local universities, polytechnics and other educational institutions.
Called OpenCerts, the platform was built on open source technology and standards by SkillsFuture Singapore, the Government Technology Agency (GovTech), Ngee Ann Polytechnic and the Ministry of Education.
From this year, 18 institutions in Singapore, including the National University of Singapore and Ngee Ann Polytechnic, will issue graduates with OpenCerts certificates, which will be stored in each person's Skills Passports account under Singapore's SkillsFuture national skills training movement.
When an OpenCerts certificate – which includes details such as certificate names, transcripts and other metadata – is issued, a unique code is published onto the blockchain. A cryptographic proof is appended onto the certificate data and sent to the individual recipient.
During verification, the certificate data is checked against its proof for signs of tampering and against the code on the blockchain for validity.
This automatic verification is expected to simplify and reduce administrative processes and physical paperwork for institutions, as well as save time and costs by not having to manually verify issued certificates from individuals.
The first batch of digital certificates was issued to Ngee Ann Polytechnic's graduating cohort last year, following a pilot project by GovTech and the institution to test the use of blockchain technology for secure and reliable digital certificate verification.
OpenCerts is the first time that blockchain technology has been harnessed for use at the national level. GovTech chief executive Kok Ping Soon said it is an example of how the government is harnessing technology to deliver secure and easy-to-use digital services for citizens and businesses.
"We see enormous potential for deploying the OpenCerts technology to develop secure and reliable certificate verification and issuance regimes in other sectors," said Kok. "We look forward to collaborating with industry and government agencies to develop further use cases."
Read more about blockchain in APAC
The growing use of blockchain across Asia-Pacific excluding Japan is set to continue, with spending on the technology slated to grow by more than 80% this year, according to industry estimates.
A report released by IDC predicts that blockchain spending in the region will reach nearly $523.8m in 2019, up almost 84% from the $284.8m spent in 2018.
Simon Piff, vice-president for security and blockchain research at IDC Asia-Pacific, said: "After much experimentation, this technology is beginning to emerge in a range of production environments, driven by the thought leadership of early adopters and an ever-growing industry of blockchain businesses helping their customers realise the value of this technology.
"As we see the emergence of the concept of digital trust, blockchain is a key ingredient in delivering this trust, at scale, across many markets, allowing a new pace of business interaction that had previously been restricted by process and approval challenges."

Download this free guide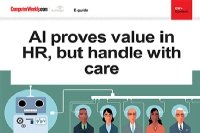 How AI is putting the 'human' back into Human Resources
Discover how the allocation of work by algorithm might have advantages for workers as well as employers, how AI is proving its value for HR and how data analytics is being used to support expansion and development.