ArtFamily - Fotolia
Skype blocked in UAE will hit businesses as well as people
Skype has been blocked to users in the United Arab Emirates, and its effects will be felt by businesses as well as citizens
The use of Skype in the United Arab Emirates (UAE) has been blocked, according to a statement by the Microsoft-owned company.
"It has been brought to our attention that our website and services have been blocked by the ISPs [internet service providers] in the United Arab Emirates. That means you won't be able to use Skype in the United Arab Emirates," Skype said on its website.
"We are working towards getting Skype re-enabled. We're passionate about the benefit that Skype offers to our users around the world by facilitating communication and enabling collaboration," it added.
One Twitter user tweeted: "It's so frustrating that Skype is banned in the UAE. How are we meant to conduct interviews and meetings? Such a contradiction in 2021 Vision goals."
The UAE 2021 Vision is an ambitious national transformation programme which includes the adoption and development of the latest digital technologies.
Simon Migliano, head of research at Top10VPN.com, said there are suspicions that the ban has been placed to help a rival local service.
"What's especially frustrating for the Emirati people are suspicions that the block might be commercially motivated, given the monopolistic nature of the telecoms industry in the UAE and the recent launch by Etisalat of a subscription-based rival service to Skype, named BOTIM," he said.
"Not only does the block make it difficult for people with families and friends overseas to communicate with each other, but it also hurts businesses by preventing them from conducting meetings due to Skype's global ubiquity," added Migliano. "It's just not practical to expect the rest of the world to start using UAE-approved video conferencing tools to do business in the region."
Content Continues Below

Download this free guide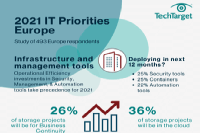 IT Priority Topics 2021 Infographic
This year, a survey was conducted quizzing nearly 500 European IT sector professionals to gather what topics they identified as being imperative for 2021. In this infographic see whether remote working is here to stay, if there will be shifts in information management trends and what infrastructure tools will be deployed by most in 2021. Download this PDF infographic to find out what the results showed.