Foto-Ruhrgebiet - stock.adobe.co
Demand for edge datacentres set to grow in APAC
More edge datacentres will be needed in the Asia-Pacific region to cope with greater adoption of edge computing and IoT when 5G networks are up and running
More datacentre operators and enterprises in the Asia-Pacific region will build edge datacentres to cope with the higher uptake of the internet of things (IoT) and edge computing when 5G networks are in place.
Speaking to Computer Weekly on the sidelines of a Huawei event in Bali, Andreuw Th.A.F, CEO of regional datacentre operator Telin Singapore, noted that 5G networks will spur the development of new edge computing applications that take advantage of the technology's low latency.
Citing the Bigo mobile livestreaming app as an example, Andreuw said such applications will become even more prevalent when 5G networks are available across the region.
"With that kind of application, you need access to eyeballs and an exponential amount of bandwidth that is only possible through 5G – and edge datacentres will help a lot," he said.
In Indonesia, Andreuw said the likes of Telkom are well placed to cope with the demand for edge datacentres, given that the telco has hundreds of old telecoms exchanges across the country that can be converted into edge datacentre facilities.
Leung Wing Kin, chief technology officer of enterprise business group at Huawei, told Computer Weekly that the rise of edge computing will drive the development of more edge datacentres in order to manage a growing number of edge devices.
"Cloud computing is a centralised model, but when you start moving intelligence to the edge in applications like self-driving vehicles, you will need edge datacentres to fulfil your requirements," said Leung. "It's not easy, but that's the direction the industry is heading."
According to IDC, the workload demands of next-generation applications and new IT architectures in critical business facilities will force 40% of enterprises in Asia-Pacific to modernise their datacentre assets by 2020.
Enterprises will have to update existing facilities or deploy new ones, and critical infrastructure in about one-third of enterprise datacentres in the region will be operating autonomously by 2021, according to Glen Duncan, senior research manager of domain group at IDC Asia-Pacific.
Also, the use of autonomous IT in intelligent edge locations will be even greater as organisations seek to link core and edge resources to support digital transformation initiatives, said Duncan.
Read more about IT in APAC
In September 2018, Alibaba Cloud and Intel said they had developed an IoT computing platform designed to make it easier for enterprises to perform compute-intensive tasks such as training artificial intelligence (AI) models at the edge of a network.
Dubbed the Joint Edge Computing Platform, the system provides an open architecture for IoT applications that integrate AI and cloud technologies for edge computing, while catering to the needs of different industries.
An early adopter of the platform is Yumei, an alloy die-casting specialist in Chongqing, China. The company used the platform's computer vision capabilities to identify defects in real time instead of waiting until the end of the manufacturing line, improving its defect detection rate by five times.
Tim Sheedy, principal adviser at technology research firm Ecosystm, said: "With the edge computing platform, Alibaba and Intel have taken an important step in putting computing power and AI software tools in and near edge IoT devices to ensure time-critical decisions happen at the edge – without the need to continually go back to the cloud or back to the core."
Content Continues Below

Download this free guide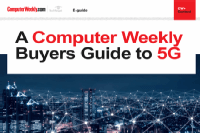 A Computer Weekly Buyers Guide to 5G
Despite the fears of many that rollouts of the next generation infrastructure would be delayed or just not be possible due mainly to the adverse economic conditions caused by Covid-19, the prospects are actually quite bright for the 5G industry in 2021. Download this EGuide to find out what enterprises need to know about 5G.