Tierney - stock.adobe.com
Growth of on-premise tech hit by enterprise cloud demand in 2018, Synergy Research shows
Growth opportunities for on-premise technologies within the enterprise are starting to feel the pinch from cloud, claims Synergy Research's 2018 market review
The use of cloud is so pervasive within the enterprise, it is starting to have a negative impact on the growth potential of non-cloud technologies, claims Synergy Research Group.
According to the analyst house's 2018 cloud market review, which covers both services and infrastructure, supplier revenues within the market surpassed $250bn last year, and were up 32% on 2017.
The platform-as-a-service (PaaS) and infrastructure-as-a-service (IaaS) segments grew fastest overall, Synergy Research Group's data shows, with a year-over-year revenue growth rate of 50%.
This was closely followed by the hybrid cloud management software segment, which achieved an annual growth rate of 41%, while the software-as-a-service (SaaS) and public cloud infrastructure segments both achieved growth in the region of 30% over the previous year.
While still growing, the hosted private cloud infrastructure chalked up the lowest growth rate of all the segments tracked by Synergy Research Group, at 29%.
"Revenue from cloud services now far exceeds cloud infrastructure hardware and software revenues, and the service market continues to grow more rapidly than the infrastructure market," said Synergy Research Group in a statement.
This is a trend that started in 2016, the company said, which is the first year since records began when the amount spent on cloud services exceeded enterprise investments in cloud-enabling hardware and software.
As time has gone on, the spending gap between these two groups of cloud technologies has continued to widen, although the total spend on cloud-enabling hardware and software did exceed $100bn in 2018 – evenly split between private and public cloud deployments.
"In 2018, cloud started to dominate IT spending in some areas, sucking up potential growth opportunities for non-cloud technologies and services"

John Dinsdale, Synergy Research Group
Given the size of the markets at present, the market watcher said it was inevitable that the high growth rates being seen now would start to decline over the next five years.
Even so, as cloud continues to increase its hold on the enterprise, there are signs to suggest that cloud is starting to eat into other areas of tech investment within companies.
"Cloud started to go mainstream in the 2014-2016 period, and we tagged 2017 as the year when cloud became the new normal. In 2018, cloud started to dominate IT spending in some areas, sucking up potential growth opportunities for non-cloud technologies and services," said John Dinsdale, chief analyst and research director at Synergy Research Group.
"Cloud technologies are now generating massive revenues for both cloud service providers and technology vendors, and our latest forecasts show that while market growth rates will inevitably erode due to the sheer scale of the numbers, the overall market will double in size in under four years."
Read more about cloud growth trends
Content Continues Below

Download this free guide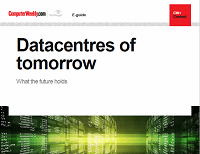 Datacentres of tomorrow: What the future holds
New technologies are widely-tipping to become a mainstay of datacentres in the future. Learn about new and emerging technologies that look set to shake-up the way datacentres are managed, monitored, powered and cooled as well.
Read more on Infrastructure-as-a-Service (IaaS)