beebright - stock.adobe.com
O2 and Nokia partner up on 5G-focused Massive MIMO trial in London
Mobile network operator O2 is carrying out an investigative trial involving Massive MIMO technology in Kings Cross and Marble Arch, London to ascertain how best to ready its network for an uptick in 5G-induced data usage
O2 is joining forces with Nokia to carry out an investigative project to establish how best to deliver 5G services to mobile users in urban areas.
The pair are embarking on two Massive MIMO (multiple-input multiple-output) trials in Kings Cross and Marble Arch, London, with these locations specially chosen because of how much mobile data traffic is generated in these areas.
It will also be supported by the additional 2.3GHz of spectrum O2 acquired earlier this year during Ofcom's 5G mobile network spectrum auction, with Nokia providing the MIMO component of the trial.
Massive MIMO technology is commonly used in wireless communications to help boost network capacity and performance by allowing multiple beams of data to be transferred between antennas to devices.
In the context of 5G, the technology is also being hailed as a means of helping telecommunications providers ready their networks for the increase in data volumes its roll-out is expected to bring.
Paul Kander, manager of the Telefonica UK account at Nokia, said: "Nokia's Massive MIMO technology, in conjunction with Telefonica's investment in new spectrum, will considerably enhance and increase the capacity of Telefonica's network and directly address customer demands, ensuring an ever-greater customer experience."
According to O2, the trials will enable it to boost network coverage within these two areas, while giving it an opportunity to ascertain the viability of rolling out the technology more widely within other urban areas.
"We recognise that customers' need for mobile data in London and other urban areas continues to grow at a rapid pace," said Brendan O'Reilly, CTO of Telefonica UK, the trading name of O2.
"This is why we are working with Nokia to trial Massive MIMO and explore the opportunities to provide the increased capacity and denser coverage for our customers, in the areas they need it most," he said.
"Whether trialling 5G or ensuring the remotest parts of rural Britain can connect to 4G, O2 is committed to building a truly Mobile Britain."
Content Continues Below

Download this free guide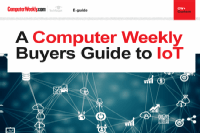 A Computer Weekly Buyers Guide to IoT
In these uncertain times, making solid predictions for the year ahead looks like a definition of a mug's game. While this has been the fuel for the fire for the boom in applications such as video conferencing as used to support remote working, the same really can be said for the internet of things (IoT). Download this E-Guide to find out what enterprises need to know about IoT.