Microsoft forces price hike on budget-constrained councils
The October 2018 price hike for Microsoft Office 2019 will badly affect local governments, leading Socitm to urge Microsoft to reconsider
Local authorities face the prospect of paying more for their Microsoft software than they had anticipated, and have until December to sign up to the new pricing, or face a 4% hike.
The price increase of Office 365, which Microsoft introduced in October, is set to bite into the budgets of local authorities already facing further cuts in local services for citizens due to the government's austerity measures.
With Office 2019, which became generally available in September 2018, Microsoft ramped up pricing for the on-premise version of its office productivity suite. Its introduction triggered "price adjustments" across many Microsoft's on-premise and cloud products.
For the public sector, the price adjustment means that government customers will end up paying 6% more than the public sector discount they previously received. According to David Chamberlain, general manager of License Dashboard, a discount is available, but only for councils buying the cloud versions of Microsoft products, rather the on-premise Office 2019 product.
Socitm, the society for IT managers, has urged Microsoft to reconsider extending the December 2018 deadline it has set for the early commitment of contract renewals to March 2019. This is intended help Local and Regional Government (LRG) customers have more time to secure budget approvals, "which have been based on prices prior to the October 2018 volume licensing price adjustments," a Socitm briefing note on the pricing stated.
According to Socitm, Microsoft confirmed that it had heard and understood the issues faced by local government, in particular around austerity when faced with price rises which further increases pressure on service cuts affecting citizens and tax payers directly.
With this in mind, Socitm said it is looking for Microsoft to review its pricing policy in relation to local government and has requested that the company escalate its request to offer local authorities the same discount currently available to schools and the third sector.
Read more about Microsoft Office 365
Content Continues Below

Download this free guide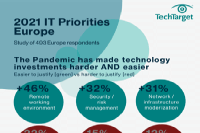 IT Priority Budgets 2021 Infographic
After surveying near 500 European IT sector professionals, the jury is out on what companies across the continent will be spending on in 2021. We dive into what spend will be easier to justify, if budgets for IT companies are on the rise or fall and what the 2021 project rankings are for most in the new year. Download this PDF infographic to find out what the results showed.