refresh(PIX) - Fotolia
VMware readies green blockchain
VMware CEO Pat Gelsinger says the power used for blockchain computation will cause an environmental crisis
VMware has introduced a blockchain-as-a-service offering in beta to provide efficiency and support the requirements of enterprises in regulated industries.
While blockchain is gaining popularity in companies worldwide, they are working to find resources to deploy and manage the distributed ledger technology and determine how it fits into the overall IT strategy.
At its VMworld conference in Barcelona, the company unveiled VMware Blockchain, a service that it said would provide permissioned blockchain for enterprise consortiums, which is intrinsically more secure than public blockchains.
The company said VMware Blockchain would provide the foundation for decentralised trust while delivering enterprise-grade scalability, reliability, security and manageability. The service will be integrated into existing VMware tools to help protect the network and compute functions that underlie a true enterprise blockchain, VMware said.
The blockchain-as-a-service product, which is available as a managed software-as-a-service (SaaS) platform, has been designed to provide decentralised trust, with the ability to deploy nodes across multiple cloud environments, including on-premise managed nodes. VMware said it also offers a single-pane-of-glass management interface, along with enterprise monitoring and auditing tools.
Commenting on the news, Ray O'Farrell, chief technology officer at VMware, said: "Our financial customers want to use blockchain in a commercial environment. When you want to put blockchain in production you still have to make sure it is secure and can be audited."
"Blockchain is an environmental crisis – it is almost criminal how computationally complex blockchain is today. We have a responsibility to do good"

Pat Gelsinger, VMware
Beyond the security and audit capabilities, the company also regards its blockchain service as a way for organisations to run distributed ledgers efficiently.
VMware's CEO, Pat Gelsinger, said: "Blockchain is an environmental crisis – it is almost criminal how computationally complex blockchain is today. We have a responsibility to do good."
He said virtualisation and server consolidation through VMware had reduced 540 tonnes of CO2 emissions over the past two decades, equivalent to the CO2 emissions generated by providing power to France, Space and the UK for a whole year.
"Our opportunity is to shape tech as a force for good. Blockchain is an early algorithmic breakthrough that will change supply chains and healthcare. We are trying to build a VMware technology stack for blockchain and have done some core innovations."
VMware said it was partnering with Dell Technologies, Deloitte and WWT to develop and support VMware Blockchain. Additionally, IBM Cloud for VMware Solutions will support VMware Blockchain.
Read more about blockchain
Content Continues Below

Download this free guide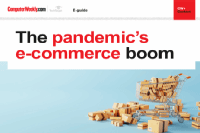 The pandemic's e-commerce boom
The pandemic appears to have solidified e-commerce's ascendancy against the highstreet. Coronavirus has accelerated technology adoption in many sectors, and people have been forced to stay at home, increasing their online shopping habits in a bid to avoid visiting shops.