chombosan - stock.adobe.com
Best of VMworld 2018 Europe User Awards: Shortlist announced
Find out who made the shortlist for this year's Best of VMworld Europe User Awards, with the winners set to be announced at VMworld next week
The shortlist for the Best of VMworld 2018 Europe User Awards has been finalised, with the winners set to be announced at VMworld Europe in Barcelona next week.

Download this free guide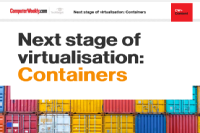 Next stage of virtualisation: Containers
Who doesn't love building blocks? Following the burst of cloud computing, containers are becoming a necessity for all organisational transformation and development. Follow us as we go through the technologies that complement and enhance their use, and outline a first-hand insight into the impact.
Hosted by Computer Weekly and SearchServerVirtualisation.com, the Best of VMworld Europe User Awards shine a light on the technological prowess demonstrated by enterprises across the continent that have made cloud technologies the cornerstone of their digital transformation strategies.
Our independent panel of judges were inundated with entries for the 2018 awards from a wide range of industries, spanning aviation, automotive, healthcare, entertainment, financial services, social enterprise and manufacturing.
The winners in each category will be announced on the second day of VMworld 2018 Europe, with all set to receive a certificate to honour their achievements.
In the weeks following the event, the winners and their projects will also be profiled by Computer Weekly.
The firms that made the shortlist can be found below.
Best cloud project
Editions Lefebvre Sarrut – nominated by Unitrends
Notting Hill Genesis – nominated by Amido
Liberty Global – nominated by Computacenter
The European Bioinformatics Institute – nominated by Red Hat
Public Health England – nominated by Red Hat
Best desktop virtualisation and mobility project
Vector Software – nominated by Tocario
Delmenhorst City Government – nominated by ThinPrint
The United States Army Command and General Staff College
Best data security and data protection project
The Agriculture and Rural Economy (ARE) Directorate – nominated by Rubrik
ASL Airlines – nominated by Rubrik
MeDirect (Malta)
Ignite Business Communications
Read more on Virtualisation management strategy