lavizzara - stock.adobe.com
Research and innovation unit for healthtech opens at Great Ormond Street Hospital
Great Ormond Street Hospital's Drive research unit is dedicated to bringing the latest technological developments into healthcare
Great Ormond Street Hospital (Gosh) wants to help digitally revolutionise healthcare through its Drive research and innovation unit at the London-based children's hospital.
The core aim of Drive (digital, research, informatics and virtual environments) is to harness existing technologies and embed them into hospital practice, firstly at Great Ormond Street and then throughout the NHS, to change the way healthcare services are delivered to patients.
"What's tended to happen in healthcare before is everyone has said you need a tech company to build a special medical whatever-it-is," said Neil Sebire, chief research information officer (CRIO) at Gosh at the Drive launch event.
"What we're trying to say is that there is masses and masses of consumer tech out there – how can we repurpose that for use in healthcare?"
Sebire gave the example of using object detection technology, developed for tracking footfall in shopping centres, in operating theatres to count the number of swabs used, or to ensure that the surgical tools on the operating tray are in the correct place.
"We wouldn't ourselves want to develop an object detection algorithm on a camera, but what we would do is say, 'You've developed one, now let's see how well that works for this use case in healthcare', and we will then evaluate it."
Using technology to improve the way healthcare is delivered within Gosh today is one part of Drive's remit, but it also has a more future-focused agenda too, said Sebire.
"For me, what is much more interesting, but a bit further away, is how you use tech to do things in healthcare you can't do now," he added.
A collaborative effort
While Drive will be sited at Great Ormond Street Hospital, its creation is a collaborative effort featuring input from researchers at University College London (UCL) and stakeholders from the private and public sectors, with NHS CEO Sarah Wilkinson sitting on the initiative's steering group.
The Drive team is already working with partners from the wider technology community, including ARM, Barclays, Microsoft, NHS Digital, NTT Data, Samsung and UCL, on a number of projects, the main one being a recreation of Gosh in Minecraft that allows child patients to virtually explore the hospital before they visit.
"Every five-year old who comes to my clinic thinks they're going to have a blood test, and they do – every single one," said Shankar Sridharan, clinical director of Drive and chief clinical information officer (CCIO) for Gosh.
"They actually come into us and go, 'It doesn't look like it does on Minecraft', so they're not worried about blood tests – they've already seen [the hospital]; it's pre-conditioning in a favourable way and it's actually a safe thing for children to do."
A digital sandpit
The unit has also been given a physical space at 40 Bernard Street, a short walk from Gosh, that will allow the Drive team to meet their partners and work on the various projects they have lined up.
Noel Hurley, vice-president of strategy at ARM, likens the space to a "digital sandpit" – a place "where we can come and experiment and play, and build things and break things in a safe environment" where collaboration between participants will be actively encouraged.
"In the long run, that's what leads to more innovative and far-reaching uses of our advances in technology for this environment," he added.
Although use of the technologies developed by Drive will be initially limited to Gosh, the hope is the resulting innovations will be made available to the rest of the NHS to use in due course.
"Our role is not to say we are going to build this for the NHS," said Sebire. "Our role is to do the early phase stuff and say, 'We've developed this'. Everything we develop will be primarily around our children, our patients, but the idea is we solve a technology problem and then hand that off to the academic health science networks and/or NHS Digital to then determine how to roll that out."
Read more about IT in healthcare
Content Continues Below

Download this free guide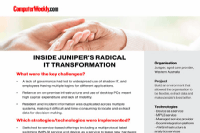 Project Brief: Inside Juniper's radical IT transformation
Western Australian aged care provider Juniper embarked on an aggressive strategy to completely transform its IT operations in just two years. This 1-page brief summarises how this overhaul has helped free up the resources needed to provide better quality of care for residents.