Rawpixel - Fotolia
At the new Cisco, culture is as important as innovation
Cisco's newly appointed SVP of Emear, Wendy Mars, shares her thoughts on the state of network innovation within the industry, and explains why cultural change is just as important an element of a digital strategy
Three years into his tenure as Cisco CEO, Chuck Robbins has put his stamp on the networking behemoth, evolving the business along new lines to keep up with the rapid pace of development as new networking technologies and standards bring fundamental change in what networks are, how they function, and how they are run.
As previously explored by Computer Weekly, the push towards software-defined networking (SDN), network functions virtualisation (NFV) and more recent growth in network automation and the emergence of so-called intent-based networking (IBN), is changing the role of the network manager.
This trend is well established, and not lost by any means on Cisco's newly-appointed senior vice-president (SVP) of Europe, the Middle East, Africa and Russia (Emear), Wendy Mars.
In her first technology media interview since being appointed to the role, Mars recounts a recent all-hands leadership meeting with Robbins, at which he outlined his priorities for the organisation.
"Always for Cisco, the number one priority has been innovation, and Chuck stood up and said, 'for me the most important priority now for us is culture in the company', and he talked about that and how it is important for us as teams and leaders to ensure that we appreciated this – the style of leader that he's looking for, and how we make sure we instil some of these principles in our managers and our individual contributors independent of the function in which they work," she says.
"For us as a large global organisation, we have a number of functions across the globe and a real spirit now of knocking down silos, working in a very different style, a very different way, and making sure we bring best value to the breadth of the company."
Mars began her career just a few years after Cisco was founded, starting out in the 1990s at Morgan Stanley with degrees in electronic engineering and operational research from the universities of York and Lancaster, respectively. She later moved to IT services consultancy ThruPoint, where she rose to the role of CTO, and then Cisco, where she has spent the last 10 years.
By her own admission, she now knows Cisco's business inside and out and reckons this gives the evolving organisation a big advantage.
"The challenge for all of us is this balance between perform and transform"

Wendy Mars, Cisco
"I know my way around, which is a good thing for me, also for our teams, but more importantly for our customers and partners as we engage with them and work with them," she says.
"We've spent a lot of time as individuals in the technology sector talking about the fact that there's this digital transformation wave that is under way and what that means, and now our customers are actually in that. It's no longer about trying to justify the conversation, it's the fact that that is moving ahead and they're looking for help with capturing this opportunity."
But what is digital transformation to Cisco? "You're absolutely right it's a terminology that catches many things," says Mars. "I think it's about how organisations can continue to stay competitive to drive their own evolution, but also how they can use innovation and technology to help them with that overall journey.
"The challenge for all of us is this balance between perform and transform – how do you do both and manage both in a parallel environment without necessarily forming separate entities and organisations? That's a terminology we hear a lot from customers, and we use a lot within Cisco as well."
Turning network heritage to cultural advantage
With its 30-plus-year history of pure-play networking, Cisco is superbly positioned to deliver much deeper insight that its rivals as the network becomes core to pretty much every aspect of IT, says Mars. She believes this is helpful to customers.
"If you look at the key problems that customers are trying to solve – help me go faster, help me make sure I don't have downtime or challenges within my environment, and also help me to be secure and compliant – the network is fundamental to all of those key principles."

This brings us squarely back to skills and company culture, she says. "With any of these changes there is a big tech element, but there are also people, skills, capabilities, and what individuals are doing.
"From a role standpoint within our customers, as you start to get at the greater innovative capability that's there within the network, the network moves towards a position of value from a platform-based play and you can really start to innovate around the different layers of that.
"So for networking people, learning new skills from within the developer community to write to and engage with these platforms is very powerful. The whole value chain starts to evolve, and that's exciting because it extends you beyond the normal areas you'd work with."
Read more about network automation
This applies just as much – maybe even more so – within Cisco itself, and Mars stresses that the organisation is keen to be seen to be following its own advice, encouraging everyone, from product development or marketing to finance or human resources, to learn to engage and operate differently based on the principle of continuous learning, paying particular attention to what people at different stages of their career, whether they are members of Generation Z in their first jobs, or Baby Boomers approaching retirement.
"I was reading an article in an in-flight magazine that was all about this, all about talent, and how do you make sure that you leverage the skill and the capability of different people at different stages in their career and how important it is to maximise the workforce independent of background, age or capability and get the best from people every day," says Mars.
The idea of continuous learning within the business continues into diversity at Cisco's Emear business. For Mars, diverse teams in terms of thought, social background, gender, ethnicity and sexuality lead to more productive and happier workplaces.
"The most successful employers will derive great benefit from diverse teams because we all spend so much time in the workplace with our colleagues, to be able to enjoy and be motivated by the environment is really important," she says. "You want to appreciate each other, do great things together, and enjoy your work."
Innovation continues
But that is not to say that Cisco has given up on innovation by any stretch of the imagination, and the diverse nature of the various countries across Mars' region lends itself to diversity of innovation as well.
Cisco has long been intimately involved in the UK government's digital economy drive, but it has also worked on similar projects in France and Germany, and has been a long-term partner of the government of the United Arab Emirates (UAE), pushing smart city innovation in Dubai.
For highly-developed markets such as the UK, Cisco will continue to push its IBN proposition, an area where Mars says she is already seeing high levels of interest from all over.
"What is triggering interest with our customers is around automation and to be able to remove the potential for human error and intervention, to be able to rapidly provision the network, and also to be able to have contextual feedback," she says. "As you deal with the network from a programmability standpoint, to be able to have that feedback loop around intent and context is very powerful."
Content Continues Below

Download this free guide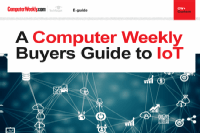 A Computer Weekly Buyers Guide to IoT
In these uncertain times, making solid predictions for the year ahead looks like a definition of a mug's game. While this has been the fuel for the fire for the boom in applications such as video conferencing as used to support remote working, the same really can be said for the internet of things (IoT). Download this E-Guide to find out what enterprises need to know about IoT.