Production Perig - stock.adobe.c
NHS Digital to publish new guidance on data standards
Data could be a huge advantage for the NHS, but data quality and accessibility is still a big challenge, says NHS Digital CEO Sarah Wilkinson as she promises clear guidance on standards and interoperability
NHS Digital will publish new, detailed guidance on key data standards needed in the health service, from clinical data standards to cyber security, according to NHS Digital CEO Sarah Wilkinson.
Speaking at the UK Health Show today (25 September), Wilkinson said the potential for use of data in the NHS is huge, but the health service needs to get to grips with standards in order to reap the benefits.
"There is no other country in the world that has the volume of data of longitude, nor medical record data, in a single system, capable of being interrogated at scale," she said.
"We are unique. It is an incredible national advantage. So it is absolutely critical that we commit ourselves now and over the next five years to maximising the opportunities associated with the scale of data in the system."
To tackle the data challenge, NHS Digital will soon publish new guidance – a revamp of the current one – which will cover clinical data standards and coding, design, cyber security and a number of other areas.
"NHS Digital will be providing clear, straightforward, but also detailed guidance on the key standards we think are critical to the development of the system," said Wilkinson.
"Our goal is to make it incredibly easy for technicians right across the system to identify the standards that should be introduced, and to get support in adopting those standards."
The NHS is already doing quite a lot of work on data, particularly through the local health and care record exemplars and the new NHS app, due to launch soon.
New 'front door' to NHS
The app, which is intended to be the new "front door" to the NHS, will allow patients to access their own medical records, NHS 111 services, order repeat prescriptions, update their personal preferences, such as organ donation and data sharing, and access support for long-term conditions.
The app is due to be piloted in several areas of the UK from next month, and Wilkinson said that as people become used to accessing their records and details about their conditions, the richer and more complete they will expect the data in the app to become.
One of the key ways to make data more accessible is via the changes to the GP supplier contract. The new £450m GP IT framework, which replaces the current GP Systems of Choice (GPSoC), is aimed at making it easier for primary care providers to buy services and IT systems, as well as opening up the market.
However, one of the most important features of the new framework is that suppliers will have to be willing to share data in an interoperable way.
"To date, they have offered slow and constrained access," said Wilkinson, adding that this will change.
"One of the most important competitive measures will be the extent to which providers offer rich APIs to liberate this data, to make it available to patients and the system at large."
NHS Digital is also ramping up its push for clinicians to adopt Snomed CT, the internationally recognised clinical coding standard based on a structured clinical vocabulary used in electronic health records. Although the NHS helped to develop Snomed CT, it has been notoriously slow to adopt it, despite the huge benefits it can bring.
Wilkinson said the NHS "must make progress" on adoption in the next few years, because the system could bring major benefits.
"If information is coded in Snomed CT by the treating clinician at the point of entry, then it can be shared across health and care settings without loss of fidelity," she said.
"This is critical for safety, for efficiency and, obviously, because it takes away the risk of misinterpretation of the record from different parts of the system."
Wilkinson said researchers, in particular, would "receive data at the level of granularity and specificity we can only dream of today".
Poor-quality data is of very limited use to both the NHS and the research community, but cleaning data is hugely demanding work, she said.
"The migration from the bespoke terminology in place in most systems today, to a sophisticated international terminology set, such as Snomed CT, is not easy," said Wilkinson.
"In many cases, it will be very challenging and very expensive, but if the other option is to have the most precious resources in our system – expert qualified clinicians manually reviewing, correcting and cleaning records – then surely that is a good option."
Earlier this year, NHS Digital set out to recruit a chief data officer, who will develop and implement a data strategy for the NHS and champion data quality improvement across the health service.

Download this free guide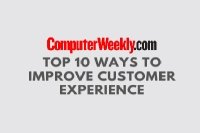 Infographic: Top 10 ways to improve Customer Experience
There are many methods to improve CX - some complex and costly, others relatively simple and inexpensive. But how do you know what's right for you, and where do you start? Here are 10 initiatives you can use to improve customer experience.
Read more on Healthcare and NHS IT