zodar_ce - Fotolia
Enterprise demand drives hike in storage sales, says IDC
Healthy jump in all-flash and SAN/NAS sales is being driven by enterprise storage modernisation, but also by component price rises. Dell EMC and NetApp top the supplier sales charts
The enterprise storage market grew strongly in the second quarter of 2018, driven in part by customer demand, but also by component inflation.
Sales of all-flash arrays have increased by 41.7%, while storage area network (SAN) and network-attached storage (NAS) array sales have grown by 15.6%, according to the latest figures from analyst house IDC.
A 15.6% growth in network storage (SAN and NAS) saw that market attain revenues of $6.15m – its best performance for four years after three successive years of shrinkage.
At the same time, the total enterprise storage market – including server-attached drives, JBODs, JBOFs and external SAS bays – grew by 21.3% to attain revenues of $13.2m.
According to IDC, 111.8 exabytes of capacity in storage systems of all kinds have been deployed by enterprises during the quarter.
A little less than a third of total sales (31.7% and $3.3m) were those by players in the hyperscale market using commodity hardware.
Sales of server storage – hyper-converged storage and software-defined storage, for example – attained a figure of $3.8m for the quarter.
IDC highlighted enterprises' storage modernisation projects as a key driver in the market, as well as the dynamism of the public cloud and the increased importance of the "data economy".
However, the analyst house seems to have overlooked that the good results were artificially boosted by the increased price of components, such as Intel CPUs, RAM and solid-state storage.
Any collapse in these prices could put in question the main storage suppliers' revenue figures and their recent growth – even if, paradoxically, it could contribute to an improvement in their margins.
Dell EMC and NetApp lead the market
Overall during the quarter, Dell EMC and NetApp were the two suppliers from the top five that showed most strongly.
Dell EMC saw sales of its network storage systems increase by 18.4% to $1.79m, while NetApp registered growth of 19.8% to $832.2m.
In third place, HPE struggled to match its competitors' performance, with a small jump in sales of 4.2% to $652.2m.
IBM did a little better than HPE in terms of growth after a calamitous first quarter, seeing sales lift by 7.2% to $579m.
Finally, Hitachi Vantara completed the top five with revenues of $402.4m, with an increase of 0.6% on a year ago.
World storage market, second quarter of 2018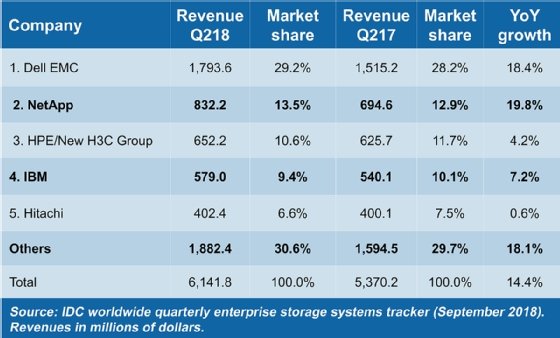 Read more about storage market trends