metamorworks - stock.adobe.com
Cabinet Office extends private cloud deal with UKFast to safeguard emergency communications
The Manchester-based hosting provider has seen its two-year private cloud contract with the Cabinet Office extended
The Cabinet Office has confirmed it will continue to use Manchester-based hosting provider UKFast's private cloud infrastructure to underpin the ResilienceDirect emergency communications platform.

Download this free guide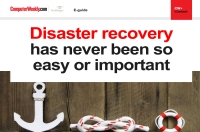 Hackers are stepping up their efforts, why aren't you?
We discuss why disaster recovery has never been more important. With digital transformation making most modern enterprises entirely dependent on their IT systems to function, cyber attackers have stepped up their capabilities to go after sensitive data wherever it is found.
The company initially secured a two-year private cloud delivery deal with the Cabinet Office in 2016, which has now been renewed after the contract was re-tendered via the Digital Marketplace.
The ResilienceDirect network UKFast's private cloud underpins is used by local councils, utility providers and blue light organisations to prepare for, respond to and communicate during emergency situations, such as natural disasters, terrorist attacks and large-scale power outages.
More than 36,000 users rely on the platform, working across 3,500 organisations, and given the critical nature of the service, the underlying infrastructure needs to be equipped to cope with huge and unplanned spikes in user activity.
To this point, Luana Avagliano, head of ResilienceDirect at the Cabinet Office, said UKFast secured the contract for a number of different reasons, including the resiliency of its setup and the value of money it promises to deliver.
"UKFast won the contract by being open, honest and proactive. The team are excellent at exploring how to maximise private cloud to make sure we are getting value for money," she said.
"Disaster recovery, for example, is expensive but we need to have that capability to allow failover. UKFast not only provide gold standard disaster recovery but our dedicated team are constantly rechecking infrastructure, security and assurances."
Read more about public sector cloud
Steve Jewell, head of UKFast Public Sector, said the contract renewal is a huge testament to the amount of investment the company has poured into building out its public sector proposition.
"We have developed a fantastic partnership with the ResilienceDirect team and know their systems well. By working closely with the whole network of co-suppliers we are able to support the whole resilience community," he said.
Lawrence Jones, CEO of UKFast, said: "We're ensuring the government knows there is a British cloud option aligned to the needs of the people of this country. Government needs to know where its data is and values having people at the end of a telephone day and night to support them when they need it most."
Read more on Datacentre disaster recovery and security