Wit - stock.adobe.com
UK cryptocurrency exchange enlists Rackspace for Microsoft Azure cloud move
London Block Exchange taps up Rackspace to assist with two-month Microsoft Azure migration as it sets about shoring up its platform against demand spikes
Cryptocurrency trading startup the London Block Exchange (LBX) has enlisted the help of managed cloud provider Rackspace to migrate its application infrastructure to the Microsoft Azure public cloud.
The technology tie-up is credited with ensuring LBX could bring its cryptocurrency trading platform to market within just two months, and can cope with the characteristic fluctuations in the values of the digital currencies its users trade.
There also tend to be spikes in activity and demand for LBX's services when a new virtual currency is added to its listings, which can lead to tens of thousands of enquiries coming its way in a single hour, which is another the move to Azure can help with.
Since the platform went live in Azure, LBX says the number of users signing up to its services has increased by 20% week on week – growth that its incumbent set-up may have struggled to cope with.
The company said it opted to use Rackspace so it could draw on the expertise of its own in-house infrastructure architects, while tapping into the experience gained by its team while working on other customer projects within financial services.
"Though not legally required, LBX wanted to meet the same level of regulation and compliance that banks and other financial service organisations do, while also mitigating cyber security risks," the company said.
However, it seems the move to Azure is just the start of its digital transformation journey, as LBX aims to adopt a serverless setup for its mobile and web applications, encompassing aspects of containers and artificial intelligence tools.
The company is also focused on expanding its operations overseas, with the help of Azure, and is preparing to roll out its services to the rest of Europe, as well as the Middle East, Hong Kong and Singapore in due course.
Read more about Microsoft Azure
Benjamin Dives, founder and CEO of LBX, said partnering with Rackspace means the company is free to focus on improving its customer-facing services, rather than getting bogged down in IT engineering concerns.
"Our vision for LBX is to be thought of as more than just a cryptocurrency exchange – we want to revolutionise the financial world by helping to re-establish London as an innovative trading place post-Brexit," said Dives.
"Although founded in the UK, we have set our sights on becoming a global exchange hub, with the aim of managing thousands of transactions for new customers every day. Knowing that our infrastructure won't fall over during this next phase is essential, to not only give our customers confidence, but investors too."
Dives added: "Digital assets have the power to disrupt a number of different industries and this strong footing has really helped our brand prepare for taking on the world."
Content Continues Below

Download this free guide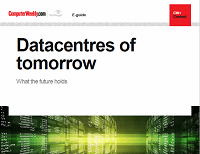 Datacentres of tomorrow: What the future holds
New technologies are widely-tipping to become a mainstay of datacentres in the future. Learn about new and emerging technologies that look set to shake-up the way datacentres are managed, monitored, powered and cooled as well.