monsitj - Fotolia
Apple confirms teen hacker took no customer data
Teenage "fan" who broke into Apple's mainframe from his home in Melbourne is believed to have downloaded 90GB of secure files, but no customer data
An Australian teenager has pleaded guilty to charges of breaking into Apple's main computer network and downloading data, sparking fears of another breach of customers' personal data.
However, Apple was quick to follow up reports of the boy's plea with a statement confirming that no customer data was compromised, reports Reuters.
Apple said in a statement that it wanted to assure customers that "at no point during this incident was their personal data compromised".
The 16-year-old boy, who cannot be named for legal reasons, broke into Apple's mainframe from his home in Melbourne on multiple occasions over a year because he was such a fan of the company, The Age local newspaper reported, citing the boy's lawyer.
The teenager, who told police he dreamed of working for Apple, is believed to have downloaded 90GB of secure files using various methods to hide his identity.
Apple contacted the FBI when it became aware of the intrusions, which sparked an international investigation, involving the Australian Federal Police (AFP).
In a raid on the boy's family home, the AFP seized two laptops, a mobile phone and a hard drive that could be linked to the intrusion at Apple.
They also discovered a collection of tools and guides for carrying out various hacking techniques and that the boy had gained access to authorised keys to bypass secure shell network protection mechanisms, and had used his WhatsApp account to boast about his activities.
The teen hacker is expected to be sentenced on 20 September.
Read more about information security skills
The UK government is focusing on teenagers in several cyber security outreach programmes across various agencies that are designed to attract people in this age group to the cyber security profession to provide an alternative to cyber crime and help fill the cyber security skills gap.
The government-backed Cyber Security Challenge UK, in particular, is focused on identifying young people with the skills and aptitude for cyber security and helping them find ways into the cyber security profession by demonstrating their skills to potential employers though competitions.
Content Continues Below

Download this free guide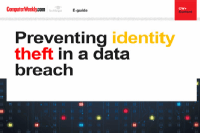 Preventing identity theft in a data breach
In this e-guide, we will explore the links between ransomware attacks, data breaches and identity theft. First, Nicholas Fearn investigates the phenomenon of the double extortion attack, and shares some insider advice on how to stop them, while we'll explore the top five ways data backups can protect against ransomware in the first place.