Jakub Jirsk - Fotolia
Driverless cars heading for Bromley and Croydon
A 10-month data-gathering exercise will pave the way for an autonomous vehicle ride-sharing service to start operation in 2019
Autonomous vehicle specialist FiveAI has received permission to start a data-gathering exercise on the streets of south London as it prepares to launch a shared driverless car service.
Over the next 10 months, five FiveAI human-controlled vehicles will ply the streets of Bromley and Croydon to gain a comprehensive understanding of the local road environment, along with the behaviour of other drivers, cyclists and pedestrians.
"For our service to eventually operate in London, we have to learn about the road layout, topology and traffic flow," said FiveAI co-founder and vice-president of product, Ben Peters.
"As with any vehicle on the road, safety is paramount, and that's why all of our vehicles will be driven by fully trained safety drivers. We believe that autonomous vehicles will be many times safer than human drivers, and this data-gathering phase is a vitally important step towards making that a reality."
The data gathered through the exercise will be collected, processed and stored in accordance with the General Data Protection Regulation (GDPR) and used solely to develop driverless technology, and not in conjunction with any dataset that could be used to identify any other road users.
Ultimately, the firm plans to launch a ride-sharing service for commuters who currently drive all or some of their journey to work, possibly as soon as 2019.
It hopes to demonstrate that autonomous vehicles have now reached a point where they are sufficiently advanced that they can operate in urban and suburban environments safely and in harmony with other road users, particularly vulnerable ones. It also aims to show how autonomous vehicles can be used as a component of transport networks to reduce travel costs, accident rates, congestion and carbon emissions.
"We believe that autonomous vehicles will be many times safer than human drivers, and this data-gathering phase is a vitally important step towards making that a reality"

Ben Peters, FiveAI
"By supporting London's transport objectives with a shared driverless car service, FiveAI can play a crucial role in reducing congestion, emissions, incidents, and the cost and time of journeys to benefit all Londoners," said Peters.
According to a report produced in autumn 2017 by the Merge Greenwich consortium, a group of six partners led by minicab firm Addison Lee which is working on autonomous ride-sharing, such services could conceivably account for just over a third of all trips by private drivers in London by 2025, and just under a third of black cab and minicab journeys.
The London Assembly's Future Transport report, published in February 2018, agreed that taking steps to promote ride-sharing through access to and use of communal car clubs could be a key driver in pushing Londoners towards using vehicles as a service when autonomous vehicles begin to take to the roads.
However, the report also said that largely due to infrastructure and public safety concerns, it was highly unlikely that truly autonomous vehicles – meaning, in this instance, those without any means of human intervention – would be seen on London's streets before 2030.
Read more about autonomous vehicles
Content Continues Below

Download this free guide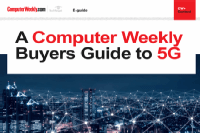 A Computer Weekly Buyers Guide to 5G
Despite the fears of many that rollouts of the next generation infrastructure would be delayed or just not be possible due mainly to the adverse economic conditions caused by Covid-19, the prospects are actually quite bright for the 5G industry in 2021. Download this EGuide to find out what enterprises need to know about 5G.