eyetronic - Fotolia
Dutch government IT projects run €1bn over budget
Dutch government IT projects are costing much more money and taking far longer than expected
Government-controlled IT projects in the Netherlands on average go over budget by 40%, according to an analysis by a Dutch newspaper.
Analysis from Financieel Dagblad (FD), the Dutch version of the Financial Times, looked at 125 large government-funded IT projects and concluded that costs ran higher than projected in a majority of cases, and costs at least doubled in 22 cases.
The newspaper said it has made a rather conservative estimate since it did not look at every project, as not all IT projects were categorised in the datasets it analysed, such as IT projects in the Ministry of Defence.
The examples of projects running out of control are plentiful. The massive project to unite all public transportation systems in the country under one definitive payment method (the OV-chipcard) went over budget; the communication system for emergency services P2000 was unreliable for a long time; and in some cases such as the Electronic Patients File (a database for healthcare data of civilians), projects were shelved or integrated in different ones.
Content Continues Below

Download this free guide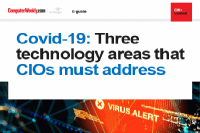 Covid-19: Three technology areas that CIOs must address
CIOs will need to consider the IT measures that will be needed to support their organisations as the government ramps up its response to the coronavirus. Click below to download now!