Aleksandr Bedrin - Fotolia
Case study: Logistics firm GWC moves from paper to digital HR in three months
Qatar-based logistics firm Gulf Warehousing Company introduced smart appraisals for employees, cut the time it takes to recruit, and gave staff and managers access to accurate HR data by replacing paper systems with human resources software
Gulf Warehousing Company (GWC), a 2,000-strong logistics services company based in Qatar, has introduced cloud-based technology to replace paper processes used by its human resources (HR) department.
GWC, which has operations in Qatar, Dubai and Bahrain, implemented SAP's SuccessFactors talent management HR cloud service to a tight three-month deadline.
The project was part of a wider business IT project, which included replacing Oracle E-Business Suite with SAP ERP (enterprise resource planning) for finance, payroll, procurement, inventory and facilities management, alongside a suite of SAP HR software.
The company has set up HR hubs, known as PEG (people, engage, grow) centres, containing computer terminals where staff from 30 different nationalities can update their HR records, request training, book holidays and take part in online training.
Tia Prang, senior director of human resources at GWC, tells Computer Weekly her aim was to provide employees, which include 1,200 drivers, delivery people and other blue collar workers, with rapid access to HR services.
"We will become more efficient. Managers can see the status of job vacancies, from recruiting to job offer, right at their fingertips. Employees can see all the training courses. They come forward and take control of their own training. If we don't have a course, they can request it," she says.
Technology saves time

The technology has reduced the time it takes GWC to move from issuing a job requisition to making a job offer, from over a week to a few days – nearly a 60% reduction.
Managers can see real-time updates on the progress of each job application and the number of applicants for each role, information which previously had to be manually created using spreadsheets. They can approve or reject recruitment requests from their mobile phones.
GWC has also been able to automate its annual employee appraisals, introducing "smart" goals, which allow employees and managers to align their personal goals with the company's objectives, for the first time in the organisation.
"Managers can plan employee development, manage their department goal more effectively and cascade [goals] from the corporate level to the individual," says Prang.
The system has freed up the company's HR staff and managers from a labour-intensive process which required the manual collection and processing of more than 5,000 paper forms each year.
"That admin burden was high and data was not always accurate. Communication from management to employees was not there," she says.
Better record-keeping
The project, which went live in June 2016, has given employees the ability to keep their personal records up to date for the first time. Managers can see at a glance what skills employees have and whether they are prepared to relocate overseas.
Managers, who may be responsible for up to 100 employees, can also use their mobile phones to navigate a live organisational chart, see pictures of their staff, and click on them to learn more about them – replacing paper charts compiled by the HR team, which quickly became out of date.
"HR credibility has improved significantly because the information is more visible to the business. We have become more efficient and effective in supporting our business"

Tia Prang, Gulf Warehousing Company
In the past, HR staff kept manual records of training, but now the information, including training certificates, is accessible online. This is important, because GWC is required to undergo regular compliance audits, which includes an assessment of staff training.
"We get audited all the time – internal and external audits. Safety is very important. We need to make sure we meet the audit certification," she says.
Data cleansing
Prang began work on the HR upgrade programme when she joined GWC in May 2015, starting with a three-month data cleansing project to update the company's HR data.
That meant working with directors to ensure that job titles, salary grades and business units were recorded consistently across the organisation. For example, Prang found that an IT manager could be described as an "infrastructure manager" or a "manager of IT" in different parts of the organisation.
The timetable for rolling out SAP's HR technology was aggressive, with a target go-live date of 1 June 2016. Prang decided to start with the standard policies and procedures built into the SAP technology and work backwards to develop HR processes for the company.
"Most companies have policies and procedures, and put them in technology. I started off with the technology because the technology has pre-defined policies. I did not change the policies, but I tweaked the workflow," she says.
Prang decided to speed up decision-making by bringing together the 12 HR staff responsible for implementing the project with specialist consultants to make quick decisions.
Choice of technology
Prang looked at a variety of technologies from Lumesse, which provides talent management software, Oracle's Fusion Human Capital Management software and others, before choosing SAP. She ruled out Workday, a major cloud HR service provider, because it lacked a strong presence in the Middle East.
"What I liked best about SAP was the innovation. The function is real time, and once you do data entry, it is real-time results," she says. "Back to speed and agility, you need good data to make business decisions."
"I don't want to pick an application that exists today and disappears the next. I want stability"
Tia Prang, Gulf Warehousing Company
Another consideration was SAP's ability to handle multiple languages and multiple regions with different tax laws.
Most importantly, says Prang, SAP has made significant investment in SuccessFactors, which means the software will continue to be supported in the long term. "I don't want to pick an application that exists today and disappears the next. I want stability," she says.
And because SAP is used worldwide, there is a ready pool of SAP specialists to recruit from, should a member of IT staff with SAP skills decide to leave, for example.
Roll out
The team rolled out three projects at the same time: SAP HCM (human capital management), an on-premise HR system; SuccessFactors talent management software; and Fiori, which GWC uses to manage payslips and standard HR letters, covering issues such as reimbursement and overtime.
The SuccessFactors modules include compensation, onboarding, performance and goals solution, recruitment and learning.
Simultaneously, the IT team introduced SAP's in-memory database, Hana, and a range of other SAP software – materials management, sales and distribution, plant maintenance, finance and control, and warehouse management. "We did the whole business side," says Prang.
The company decided against SAP's cloud-based HR software, Employee Central, because it felt the payroll function had not been adequately tailored to the needs of Qatar. "The confidence level for Employee Central is not quite there. I need localisation, and it's not quite there yet in Qatar," she says.
The company stores its payroll and employee master data on on-premise SAP software, but uses SAP's cloud services for talent management. The team implemented SuccessFactors, including learning, succession, development, performance and mobile applications in just three months.
With people from more than 30 different nationalities working in the company, training people how to use the new system was challenging. The company produced training programmes and presentations in different languages and identified super-users who could help other team members with questions they had. "It is like a 'train the trainer' concept," says Prang.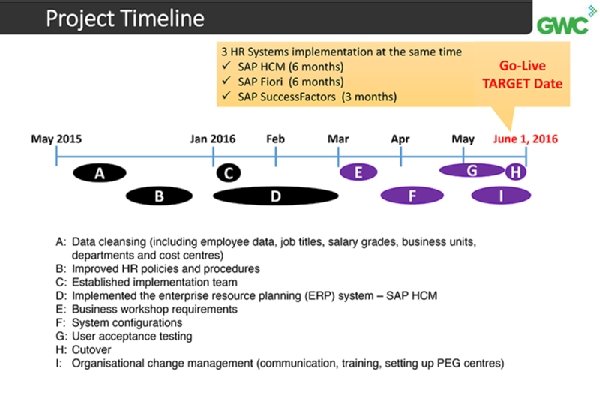 Next steps
The project has made a huge difference to the HR department, Prang tells Computer Weekly.
"HR credibility has improved significantly, as has the trust level, because the information is more visible to the business. We have become more efficient and effective in speed in supporting our business," she says.
In the future, Prang would like to introduce SAP's Employee Central cloud-based HR technology, which could be used for managing transfers and job changes, currently managed on-premise IT systems. "Employee Central will empower HR further, making it much easier to make changes," she says.
SAP is expected to end support of its on-premise HCM system in 2025 to focus more on cloud services, including Employee Central.
But Prang says she needs to wait a bit for Employee Central to mature enough to introduce into Qatar. "They are not quite ready yet, so I would say, not for another three or six months."
Another priority is to introduce e-learning, so that employees can use the PEG centres to complete online courses, as well as book classroom training.
Lessons for the future
Prang advises other companies embarking on HR IT projects not to attempt to roll out three HR systems simultaneously. "It is very exhausting. My team members, even though we have 12 people in HR in addition to an implementation team, did it all. That meant long hours and working some weekends," she says.
Prang and her staff turned up to every meeting, even when they had colds or flu, to ensure that the project remained on track.
She would advise HR organisations to listen to the ideas of their staff and to encourage them to take ownership of the project. That means speaking in a language they can understand, and avoiding technical terms.
"You have to win heart and mind of employee and manager. Only then will they use the technology. It's important that technology is fun, but if they are not using it, it's a waste of time and money," says Prang.
The system is now being used by more than 2,000 employees for goal-setting and performance appraisal, and is widely used in the organisation for recruitment. Senior managers are using the tools for succession planning.
Prang admits the company needs to do further work to encourage employees to keep their HR data up to date. "We still need push to encourage people to add personal data. Some do, some do not," she says.
GWC's main HR systems
SuccessFactors: SAP's cloud-based human capital management and talent management software. It includes capabilities in recruitment, learning and development, performance management and compensation management. GWC decided against using Employee Central, one of the core elements of SuccessFactors, which provides a central database of employee records, as it felt that local support for payroll in Qatar was not yet adequate.
SAP HCM: An on-premise system that services HR functions such as compliance, payroll, personnel files and benefits administration.
SAP Fiori: Provides GWC with the ability to access applications on any device.

The technology is designed as SAP's predominant user interface, for its SAP

ERP (enterprise resource planning

), SAP MM (materials management) and SAP SuccessFactors (

talent management software

).

Other SAP software deployed by GWC: SAP MM (materials management), SAP SD (sales and distribution), SAP PM (plant maintenance), SAP FICO (finance and control) and SAP WM (warehouse management).