Minerva Studio - stock.adobe.com
Visa blames hardware failure for UK-wide card payment system outage
Credit card payment processor moves to assure customers that last Friday afternoon's downtime was not the work of hackers
Visa claims a "hardware failure" is to blame for the service disruption that left millions of businesses across the UK and Ireland unable to accept credit card payments on Friday 1 June.
In a series of statements published by the credit card payments firm in the wake of Friday's outage, it moved to reassure customers that hackers had no hand in the incident.
"The issue was the result of a hardware failure within one of our European systems, and is not associated with any unauthorised access or cyber attack," the company said.
The disruption is thought to have started around 2.30pm on Friday, and was fully resolved several hours later.
"Our goal is to ensure all Visa payments work reliably 24 hours a day, 365 days a year," said Visa CEO Al Kelly in a statement. "We fell well short of this goal today and we apologise to all of our partners and Visa account holders for any inconvenience this may have caused."
According to the company's own figures, there are three billion Visa cards in circulation, and the organisation's technology is relied upon by 16,600 financial institutions across the globe.
Computer Weekly contacted Visa for further clarification about the exact nature of the hardware issue, and whether it could be attributed to a fault in one of its local datacentres, but had not received a response at the time of publication.
The company made a commitment in July 2017 to expand its global datacentre capabilities, in recognition of society's increasing reliance on mobile, contactless and chip-and-pin card payments, with two new facilities planned in the UK and Singapore.
The datacentres were due to come online in 2018, but it is unclear at present whether the UK facility has started processing transactions.
Content Continues Below

Download this free guide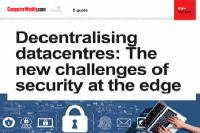 Decentralising datacentres: The new challenges of security at the edge
In September 2020, the Computer Weekly Security Think Tank, our panel of information and cyber security experts, considered the challenges inherent in decentralising the datacentre, and set out to answer the question, how can security professionals ensure such setups are just as secure as the traditional centralised model? Read more in this e-guide.
Read more on Datacentre disaster recovery and security