fotohansel - Fotolia
Argos announces 150 new tech roles in the UK
Argos is recruiting an extra 150 IT professionals as part of its strategy to offer a better digital services to customers
Retailer Argos is adding 150 IT professionals to its workforce to help support its increasing focus on providing customers with a digital shopping experience.
The jobs, which will be in its London tech hub in Victoria as well as its Milton Keynes headquarters, will include software engineers, machine learning experts and big data engineers.
Argos develops its own business-critical software to support the business, and therefore needs staff in-house. The staff are also required to support innovation as disruption changes business models in the retail sector.
Many retailers rely on IT service providers to support their digital journeys, so Argos' hiring in-house skills could differentiate its offering.
The new tech roles range from graduate right up to principal level, and will work with technologies including Java 8, Kotlin, Hadoop, Spark, Python, Kafka and React.
John Rogers, Argos CEO, said: "Around 60% of our business today starts online, and over 70% of those sales are on mobile devices. This investment in our people will ensure we remain at the forefront of retail technology."
Read more about retail technology
He said the announcement is evidence of the company's commitment to nurturing its own tech talent, ensuring Argos is in a good place to shop for its customers.
"We're excited by what our teams are achieving so far, and we're looking for more people who not only want to build today's tech, but also think big, and create new experiences and functionality that our customers don't even know they want yet," said Rogers.
In 2014, Argos opened a "digital hub" in London that will focus on creating more agile and flexible ways of working. The office is above the Argos store in London Victoria and will be used as a satellite for teams working on major infrastructure projects.
Interested candidates can apply here.
Content Continues Below

Download this free guide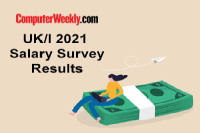 2021 UKI Salary Survey - Pandemic Infographic
We take a look at our 2021 Salary Survey results from over 300 respondents who work in the UKI IT sector. We will be breaking down which job functions get paid what, what areas of IT companies will be investing in in 2021, the current diversity landscape residing in the UK tech sector and how the pandemic has effected IT staff.