Tombaky - Fotolia
G-Cloud 10 launch date confirmed for June 2018
The Crown Commercial Service (CCS) confirms it will start accepting new bids from suppliers wanting to join the tenth iteration of the G-Cloud framework from April 2018, in anticipation of the next version going live in June
The 10th iteration of the billion-pound G-Cloud procurement framework will go live in June 2018, and start accepting bids from new suppliers from April 2017, the Cabinet Office has confirmed.
As previously reported by Computer Weekly, concerns the roll-out of G-Cloud 10 could be subject to delay began circulating in late 2017, with stakeholders speaking out at how any slowdown in the release cadence of the framework could harm public sector innovation.
Government procurement chiefs at the Crown Commercial Service (CSS) confirmed in November 2017 that G-Cloud 10 could be delayed by up to a year for "functionality improvements" to be made to The Digital Marketplace, where G-Cloud services get listed.
In a statement to suppliers at the time, CCS said the delay would enable it to ensure user needs are better addressed in the next iteration of G-Cloud, as the previous release cycle – which saw the framework refreshed every 6-12 months – had made that difficult.
The G-Cloud framework launched in March 2012, and was held up as an example of how IT procurement across the entire public sector needed to change, by allowing organisations to purchase services from a much wider pool of suppliers – particularly small to medium-sized enterprises (SMEs).
At the moment, there are 2,856 suppliers listed on the framework, with SMEs making up the bulk of them (90%), with 48% of total sales through the framework awarded to small IT suppliers.
According to figures jointly published by the Government Digital Service and CCS at the start of February 2018, more than £2.8bn of cloud services have been procured through the framework since launch.
Each iteration of the framework gives existing suppliers the opportunity to update details about the pricing and functionality of their services, and new providers can apply to have their services added to the Digital Marketplace.
Oliver Dowden, minister for implementation, said G-Cloud 10 will continue the tradition of previous iterations by providing SMEs with a way into government IT contracts.
"Small businesses are the backbone of our economy, so it's crucial we listen to them when shaping policy," he said.
Rob Driver, head of public sector at trade body TechUK, said any reinforcement of the government's support for SME IT suppliers is most welcome.
"For the UK Government to deliver its ambitious vision of being world-leading in the next wave of digital government transformation, it must embrace the full diversity and strengths of UK tech suppliers, and innovative procurement vehicles such as G-Cloud will be fundamental in achieving this vision," said Driver.
"The announcement of the G-Cloud 10 Framework should be welcomed as it allows new innovative providers to work with government, enables new services to be provided and is an opportunity to engage with the wider public sector to make use of the framework."
Content Continues Below

Download this free guide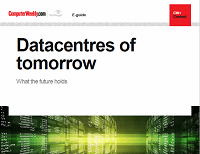 Datacentres of tomorrow: What the future holds
New technologies are widely-tipping to become a mainstay of datacentres in the future. Learn about new and emerging technologies that look set to shake-up the way datacentres are managed, monitored, powered and cooled as well.
Read more on Infrastructure-as-a-Service (IaaS)