SBphotos - stock.adobe.com
A third of Brits plan to exercise right to be forgotten
After the General Data Protection Regulation compliance deadline, a third of Britons polled say they plan to exercise their right to be forgotten, but few fully understand the GDPR and how it will affect them
A survey has found that Britons are concerned about their privacy and data protection, and many would like to exercise the rights granted by the EU's General Data Protection Regulation (GDPR).
Less than one in five UK consumers polled said they were confident their personal data is used in the best possible way by business, according to the latest consumer confidence study by UK media agency 7stars.
The survey also revealed that more than a third (34%) of UK consumers polled plan to exercise their right to be forgotten after the GDPR compliance deadline of 25 May, and three in five plan to question how much data businesses hold on them.
However, the research also highlights a lack of knowledge among consumers of the changes being ushered in by the regulation, with only one in four respondents agreeing that they have an understanding of what the GDPR is and how it affects them.
Poor understanding of the regulation is further underlined by the fact that 75% of respondents believe the UK government needs to make clear what the GDPR is and how it will affect the British public.
In fact, the UK government plans to introduce new legislation ahead of the GDPR compliance deadline that is aimed at bringing domestic data protection laws into line with those in Europe. The government hopes that by aligning UK and EU law, the UK will more easily achieve an adequacy ruling to ensure the continued free flow of data between the UK and the EU post-Brexit.
Despite the concerns about data protection and privacy, 58% of respondents think the regulation is a positive step towards protecting their data and privacy, with Londoners the most positive (65%).
Businesses could also see a benefit, with 32% of customers saying they will trust brands more with their data as a result of the regulation.
"Time is running out fast for brands, advertisers and marketers to get their data ducks in a row," said Frances Revel, associate direct, insight at 7stars.
"Given the importance of data to business operations, the fact that over a third of people are looking to exercise their right to be forgotten represents a real threat that cannot be ignored.
"However, there is still time for government and brands to come together to tackle consumer concerns around data protection and privacy head-on, and the brands that get this right stand to gain the most."
This echoes the view of the Direct Marketing Association (DMA) and the UK's data protection authority, the Information Commissioner's Office (ICO).
Organisations that seek merely to comply with the GDPR and treat it as another box-ticking exercise are missing the point, information commissioner Elizabeth Denham told an event hosted by the Association of Chief Executives and the Public Chairs' Forum in London.
"And they miss a trick because this is about restoring trust and confidence. Only one in five people in the UK trust organisations to look after their data. That's not good enough," she said.
Although 40% of UK marketers say their business is not ready for changes introduced by the GDPR, Chris Combemale, CEO of the DMA Group, believes organisations should use the regulation to drive new communication with consumers.
"We should use the new laws as a catalyst to transform the way we speak to customers, making every engagement human-centric," he said. "This will enable organisations to build trusted, authentic and transparent relationships with their customers."
Content Continues Below

Download this free guide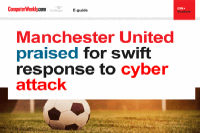 Manchester United praised for swift response to cyber attack
The Theatre of Dreams briefly turned into The Theatre of Nightmares as Manchester United Football Club suffered a cyber-attack on their systems on Friday 20th November. This e-Guide dives into more depth about how the attack happened and what Manchester United's cyber security team did, in order to prevent a loss of data and keep a clean sheet.