Fotolia
Dell EMC: Time for hyper-converged, but not for mission critical
Hyper-converged vs converged infrastructure: Dell EMC says hyper-converged isn't ready for mission-critical applications, but may be by the end of the year
Customers should look to move all workloads to hyper-converged infrastructure (HCI), except mission-critical ones. However, they can review that by the end of 2018 when features across the largely software-driven HCI and more traditional architectures should align.
That's the view of Dell EMC European chief technology officer for converged and hyper-converged infrastructure, Nigel Moulton, who has described the "SAN-less" hyper-converged infrastructure market as "white hot".
Hyper-converged infrastructure is a rising star in the datacentre, which combines server and storage nodes that can be grown in scale-out clusters.
They are largely software-driven and include a hypervisor platform. HCI contrasts with traditional server-and-shared-storage architectures and so-called converged infrastructure – of which Dell EMC VCE is one – in which suppliers provide pre-certified server, storage and networking equipment bundles.
"Hyper-converged lends itself to general purpose IT and agile environments, such as internet of things (IoT) and analytics" said Moulton. "But mission-critical operations live best in converged infrastructures. Email, VDI, Sharepoint; customers should be looking to move them to HCI."
According to Moulton applications that should stay on SAN-based storage are, "traditional, monolithic applications with large relational and non-relational databases, such as SAP, Oracle, the patient records system, Epic."
"Many mission-critical applications, such as ERP, are architected to rely on the underlying hardware [in the SAN] for encryption, replication, high availability. In contrast, with hyper-converged, many of these things come from the software stack. So, for things like Sharepoint, that don't need the same underlying level of reliability, they can be migrated to HCI."
Read more about hyper-converged
Having said that, Moulton predicted that features sets would align between hyper-converged and converged and traditional hardware in the next year.
"By the end of 2018, if we compare the feature sets across SAN and SAN-less products, it might be that it'll be difficult to see the differences," he said.
Practical conclusions that flow from Moulton's predictions are that IT departments should migrate what they can to HCI – of non-mission critical apps – as existing hardware reaches end of life.
"It's not a case of either/or," said Moulton. "It should be 'and'. Always start with the application. Can an application work in a hyper-converged environment? If so, look at proof-of-concept and how to deploy to HCI."
"Hyper-converged is on fire for a reason. People see it as a prime choice and IT departments should watch what happens over the next 12 months."
Content Continues Below

Download this free guide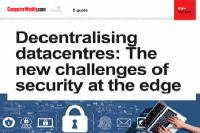 Decentralising datacentres: The new challenges of security at the edge
In September 2020, the Computer Weekly Security Think Tank, our panel of information and cyber security experts, considered the challenges inherent in decentralising the datacentre, and set out to answer the question, how can security professionals ensure such setups are just as secure as the traditional centralised model? Read more in this e-guide.