Disney spreads the magic through wearable technology
The Walt Disney Company is using wearable technology to improve customer experience and engage with visitors
The Walt Disney Company is using wearable technology to improve customer experience and engage with visitors at its parks and resorts.
The media giant introduced MagicBand wearable devices at the beginning of 2014. The bands use radio frequency identification (RFID) technology that can be read by short-range and long-range readers at Walt Disney World Resorts.
The technology enables visitors to enter Disney parks and hotel rooms, purchase food and gifts, use fast-track services and even link Disney photographs to an online account with a swipe of their arm.
Modern technology has changed consumer behaviour, as well as their expectations of brands, according to Philip Barnes, digital executive at The Walt Disney Company in Europe.
Speaking at the Digital Strategy Innovation Summit in London on 17 October 2014, Barnes pointed out that even toddlers are becoming digitally savvy. "Kids are digital natives and will demand excellency in digital," he said, explaining how some companies are struggling to keep up.
Naming some of the brands that have been left behind in the innovation race, Barnes pointed to Bebo, MySpace, BlackBerry, Nokia and Blockbuster. But he said Disney Parks and Resorts have been at the forefront of entertainment for the past 60 years, and the company cannot afford to rest on its laurels.
Barnes told delegates at the summit how Disney chose to implement wearable devices as a way to stay ahead in the digital race. "Was it essential? To outsiders, probably not. But Disney needs to always innovate quickly, before it's too late," he said.
More on big data analytics
Are retailers lost in a sea of technology, data and insight?
Beyond Big Data – The New Information Economy
Privacy and big data
Care.data goes ahead with CCG pilot
Big data, big legal trouble?
London innovation centre launches to tackle data challenges
More data loss comes from sloppy organisations than hackers, says study
Technology with a touch of magic
While it is Disney's first step into the world of big data analytics to learn about consumer behaviour, the waterproof MagicBands can also use this data to make the Disney experience more engaging for visitors – or guests, as Disney like to call them.
While Barnes points out that privacy and security are obviously a big concern, the MagicBands allow visitors to choose whether they share their personal data. For example, they can connect their card payment details, so they don't have to carry a wallet around the park.
Parents can also share details such as their child's name and birthday to make the experience more "magical". If a child tapped their MagicBand on a reader when queuing to meet a Disney character, the character would then have information on that child, which could be used to personalise the experience.
"Perhaps she's meeting Alice from Alice in Wonderland, who can then wish her a 'happy birthday' and call her by her first name," said Barnes.
This data value exchange encourages visitors to wear the MagicBands throughout their stay and, in turn, enables Disney to gain detailed insights into a family's stay at the resort.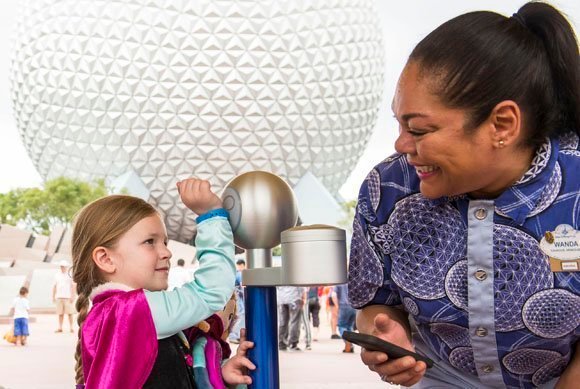 Walt Disney World Resort guests use MagicBands for park entry at Epcot in Lake Buena Vista, Florida
The technology is also available in card format, but this only works with short-range readers such as those used for opening hotel rooms and paying for food and merchandise, so visitors with cards miss out on the long-range benefits such as automatic delivery of some attraction photos and personalised offerings.
Infrastructure to support the magical experience
But these things don't happen by magic. To enable the service, Disney had to change all 25,000 hotel room locks to be RFID compatible and create numerous mobile apps for itineraries and websites.
It also rolled out Wi-Fi across the parks to ensure guests could be connected without the costs associated with mobile data.
Kids are digital natives and will demand excellency in digital

Philip Barnes, The Walt Disney Company
"Walt Disney World in Florida is the same size as San Francisco [or Greater Manchester], with six parks across 40 square miles – I wouldn't want to use 3G as international traveller," said Barnes.
The Walt Disney Company is on a journey of continuous digital improvement, according to Barnes, having almost finished a redesign of the park websites. It has launched mobile-optimised sites for Florida, California and Paris over the past year, with the Hong Kong site due to be launched soon.
"We had 44 million guests last year – imagine the amount of traffic the sites get," said Barnes.
All of the websites now share the same content management system, which joins up the look and feel of the sites and goes hand-in-hand with Disney's vision to join up its digital efforts. The sites can now share analytics, learn about conversion rates and apply changes to websites quickly and efficiently.
The websites also tie into the My Disney Experience, which brings in wearables and big data personalisation both online and offline.
Families use My Disney Experience to plan their park visit using the website planning page or a free mobile application. The mobile app helps visitors keep track of plans, including dining reservations and FastPass+ selections.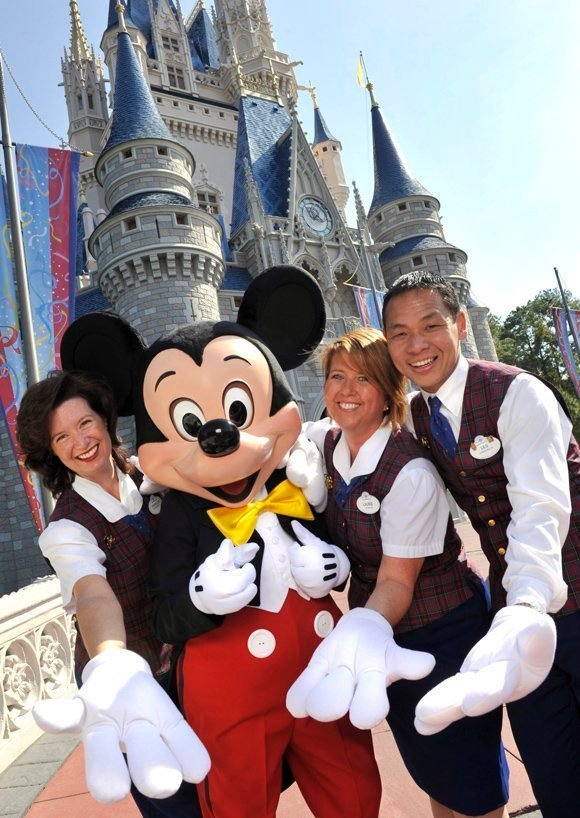 Walt Disney World tour guides with Mickey Mouse in front of Cinderella Castle at the Magic Kingdom
Read more on IT for leisure and hospitality industry