Case study: Bank of America and Nationwide use in-branch telepresence
Bank of America and Nationwide implement video conferencing technology to enable customers to speak to banking specialists
One of the largest banks in America and the world's largest building society have each implemented video conferencing technology to enable customers to speak to banking specialists.
Bank of America and Nationwide are using Cisco's telepresence technology to reduce the need for specialist advisors in local branches.
Speaking at the supplier's annual Cisco Live conference in San Francisco, Tyler Johnson, senior vice-president of ATM/kiosk strategy and innovation at Bank of America, announced the bank's plans to expand the service to 500 banking centres after a two-year trial in 85 branches.
The bank has seen mobile and online technologies shifting transactions away from the banking centre to online channels, but when it comes to selling products, Johnson said customers still want to visit a branch.
"A million customers visit our 5,000 banking centres every day," he said. "Behaviour is changing, but the banking centre is not going anywhere any time soon. Around 85% of our products are still sold within the four walls of the banking centre."
Video links to specialist advice
But for a bank with so many centres, having specialist associates – such as investment advisors, mortgage advisors and small business advisors – in each branch can be unnecessary.
More from Cisco Live
Cisco advances global Intercloud through further partnerships
The IT industry is consolidating, says Cisco CEO
The Weather Company crowdsources extra forecast points
Germany leads the Internet of Things, says Cisco
There is a 'lot of work to do' to secure IoT
"We use specialty trained individuals to fill those needs," he said. "But demand in banking centres is different, and we're not able to staff centres with full-time roles."
The Bank of America trialled Cisco video conferencing technologies for two years in 85 banking centres, offering customers who come into a branch the opportunity to speak to remote specialists.
"We want to make interactions more human," said Johnson. Before it introduced the video links, the bank would offer the customer a desk to sit at and put them on the phone to talk to a specialist.
The telepresence terminals offer more human interaction and more flexible access to a specialist, he said.
Over the two-year trial period, the Bank of America has supported 10,000 customer interactions with Cisco's CTS 500 and EX90 conferencing devices. It now plans to expand the technology to 500 banking centres.
Johnson said the bank's customers have been extremely positive after the meetings, and the specialists also enjoy the experience.
"These associates can have all the training in the world and be very skilled at their role, but it's a different interaction than you have in real time," he said. "On camera, it took a bit of training to get them comfortable."
Nationwide offers virtual mortgage consultations
Nationwide, the UK building society with 15,000 members, is using similar technologies to solve the same problem.
The building society has a relationship with one in four households in the UK, and has 700 branches served by around 400 specialist mortgage advisors.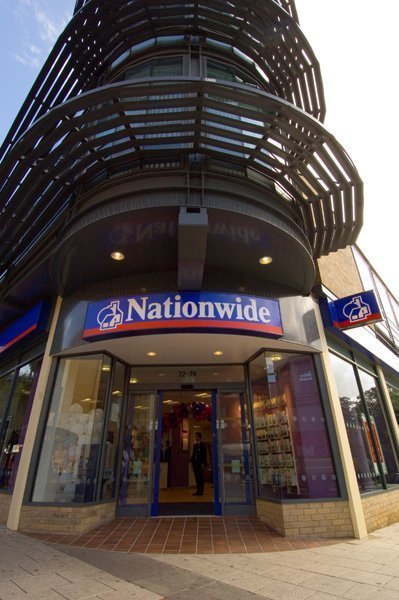 Speaking at Cisco Live, Andrew Nation, senior manager of future customer outcomes at Nationwide, said it tried to maximise the use of consultants by allocating a greater part of their time to busier branches, and arranging appointments in less busy branches around this.
"However, meeting member expectations of an appointment when it is convenient for them could be difficult so, to provide the best possible service, we wanted to find a way to increase our capacity," he said.
Nationwide has adopted Cisco's Remote Expert Smart Solution for Retail Banking in a number of its branches, which enables virtual face-to-face customer meetings using high-definition video.
During a pilot with six branches in England and Wales, the company took some mortgage consultants out of the branches altogether and encouraged members to try the service in private spaces with a video link to four contact centre-based mortgage consultants.
Nationwide has seen improved customer experience, more new business and cost reductions, as a result. Research conducted by the bank determined that customers were happy at not having to wait to speak to someone.
"It seems that meeting the expectations of customers for an appointment on their terms makes for more satisfied customers overall," said Nation.
The building society also calculated that its mortgage sales performance rose by two-thirds. "The Cisco system has helped us improve customer satisfaction and staff efficiency, while at the same time increasing mortgage sales," he said.