IT contract market rebuilding, survey reveals
The IT contract market is beginning to show signs of recovery, according to Computer People's June 2012 IT Monitor survey
The market for IT contractors is starting to recover, according to Computer People's IT Monitor survey for June 2012.
Despite a 12% year-on-year slowdown in the second quarter, Computer People concluded that this simply reflected the fact that many IT projects came to an early end in preparation for the London 2012 Olympic Games.
The research firm said the results reveal the UK IT industry is going through a period of resource allocation.
Permanent and contract vacancies saw a rise of 0.34% and 0.30%, respectively, compared with the first quarter, in unstable economic conditions. June last year saw a shift in permanent to contract vacancies, with approximately 50% of permanent jobs becoming contractor opportunities.
Skills still in short supply include Agile, C++, Java, .Net, SAP, Ruby and SQL testing. Business intelligence experienced the greatest increase in contract salaries during the second quarter, up 1.41%, while the biggest decline was recorded at 0.92% for SQL servers.
In addition, CSS3 saw a 37% increase in demand, and SQL DBA saw a 36% increase during the quarter. Systems analysts saw a decline in demand (-43%), compared with the first quarter, as did credit risk (-35%).
According to the survey, daily rates have remained stable, with only manageable drops of 0.7% from the first quarter 2012 and 3.2% year on year. The average rate in the sector is currently £386 per day, compared with an average of £388 across the second quarter.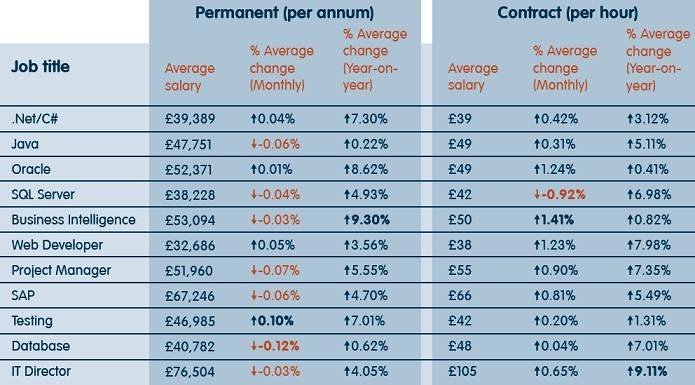 ---
Image: iStockphoto/Thinkstock