Nessus Android application extends vulnerability scanner's mobile reach
Free Android app for Nessus Vulnerability scanner released by developers, Tenable Network Security Inc; extends Nessus's existing support for iOS devices.
Tenable Network Security Inc. released an Android app for its Nessus Vulnerability Scanner, this week. The application enables remote connections to a Nessus server using an Android device to launch scans and review reports for previous scans.
Mobile access is expected to improve the efficiency of the incident response process, according to a statement made by the company, by providing on-the-go access to the Nessus scanner. The Nessus Android application provides users with the ability to start, stop and pause vulnerability scans.
In addition, analysis and filtering of results from previous scans can be made. Existing scan templates can also be launched on the Nessus server (versions 4.2 and later). To ensure security, the Nessus Android app has been designed to prevent modification and creation of new policies by users.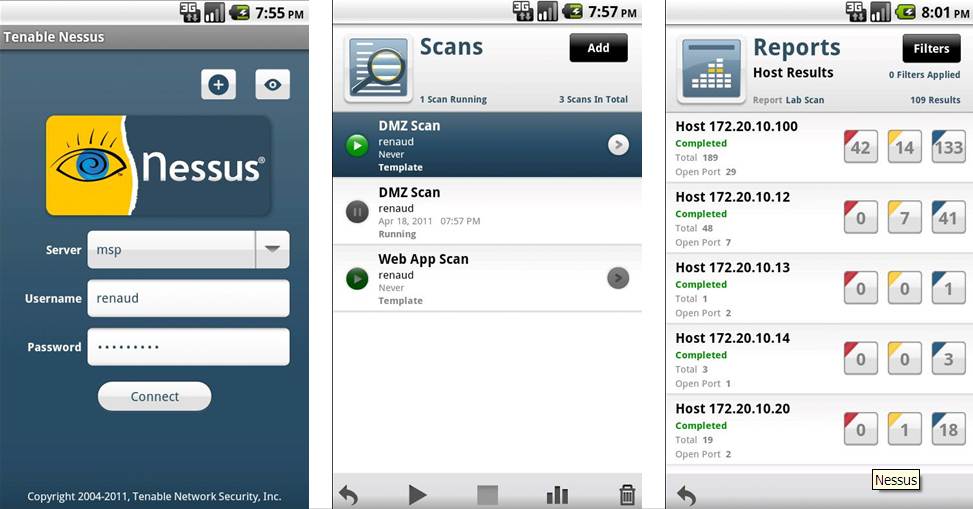 Image courtesy: The Android Marketplace (http://market.android.com/)

Support for the iOS platform was available before the company decided to extend support to Android devices. Nessus is the first vulnerability scanner for the Android platform with official support. The Nessus Android application is available on the Android Marketplace for free.
More info on the Nessus Android app is available on Tenable's Website.