Symantec boss talks of partner support for split business
With the moment when Symantec splits into two operations getting closer the firm's CEO has revealed that partners are behind the move
Symantec might not have split its operations in two yet, with security and information management running separately later this year, but the firm is already talking about partners getting behind the move.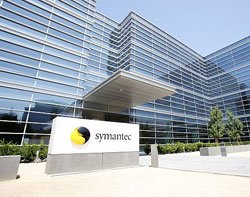 The vendor made the decision to split storage and security and will introduce a dual operation strategy from the start of its fiscal year in April but on the occassion of its latest quarterly results the CEO, president and director Michael Brown said that partners and customers were "energized about our future".
He also said staff were feeling the same but the split is not good news for all of the workforce with the firm already incurring restructuring costs of $39m and separation costs of $29m in the December quarter as it reshapes the organisation.
"We are reducing our workforce and taking steps to improve our cost structure as we prepare for the separation. We expect the remainder of these charges to occur in the March and June quarters," Thomas Seifert, CFO and executive vice president at Symantec, told analysts.
The split can't come soon enough perhaps given the mixed bag served up in the Q3 numbers with revenue down by 4% to $1.64bn and net income also declined by 22% to $222m.
Consumer security saw a 7% revenue drop to $461m and enterprise security was flat, dragged down by weakness in the endpoint management and mail and web security areas. Information management revenues only managed a single 1% improvement year-on-year.
In the last three months of 2014 steps were taken to move towards the split operation and the firm has chosen to call the information management operation Veritas Technologies Corporation and has already named the key personnel for both businesses.
Efforts have also been made in the area of consumer and partner contracts as well as dividing the products and services between Veritas and Symantec.
"As the world's largest security company monitoring 4.3 trillion global threats in real time, with more than 500 full time researchers, we continue to uncover new threats every day," said Brown "We will continue to move quickly in making the changes required to ensure Symantec has a more successful future, and in doing so, we will stay focused on executing to deliver for customers, employees and shareholders."