Microsoft showing cloud growth
Microsoft's CEO has been able to talk about cloud growth as the firm delivered strong revenue in its first quarter
It must have felt quite good for Microsoft's CEO Satya Nadella to get back to talking about the progress that Microsoft is making in the cloud after a couple of weeks where the headlines have been dominated by his views on equal pay and the size of his own renumeration package.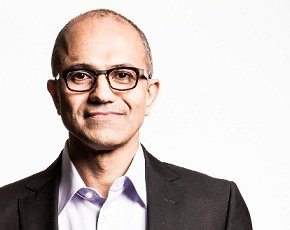 Having got into hot water for suggesting that female executives pin their hopes on good karma providing them with decent pay rises it was then revealed earlier this week that Nadella was being awarded $84.4m this year.
So it was perhaps with some relief that he could start talking about the firm's first quarter numbers, which beat Wall Street expectations, and the continued push towards cloud computing.
The software giant reported revenues of $23.2bn for the quarter ended 30 September, which was a 25% improvement on the same period last year. Net income however fell by 13% to $4.5bn.
On the back of using the recent Worldwide Partner Conference to bang the drum about being cloud and mobile first Cloud services sales increased by 128%, Windows gre by 10% and consumer sales were down by 1%.
The firm also boasted of 7m subscribers to Office 365 and it appears to be doing better in the tablet segment thanks to the Surface Pro 3, whichy helped generate $900m worth of turnover in that hardware area.
"We are innovating faster, engaging more deeply across the industry, and putting our customers at the center of everything we do, all of which positions Microsoft for future growth," said Nadella
"We delivered a strong start to the year, with continued cloud momentum and meaningful progress across our device businesses," said Amy Hood, executive vice president and chief financial officer of Microsoft. "We will continue to invest in high-growth opportunities and drive efficiencies across the organization to deliver long-term shareholder value."